Posted November 30, 2015 in Chin Implants, Facial Fillers, Facial Implants, Plastic Surgery
When attempting to enhance face shape, it is important to weigh the advantages and disadvantages of the different treatment methods. Facial implants and facial fillers offer different advantages that may be more or less beneficial for your situation. Here is some valuable information that may help you to decide which will be better to help you achieve your desired facial enhancements.
Benefits of Facial Implants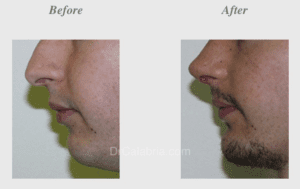 Facial implants improve the shape of the face by enhancing the facial skeleton. It is important to note that if the anatomy of the face is weak, the best improvements are created with the use of facial implants to correct the framework of the face. If the cheeks, chin, or jawline are naturally weak due to genetics, facial implants can add definition to these areas to enhance their attractiveness. Facial implants can also create more defined lines and contours to help improve face shape that has been weakened or otherwise adversely affected by aging. Facial implants can enhance chin projection, cheek bone projection, jawline, and jaw angle. Ultimately, facial implants create a more attractive shape and contour to enhance the entire facial appearance.
Dr. Calabria uses minimally invasive techniques to achieve the best results with minimal scarring. It typically takes a few days to recover fully from facial implant surgery, but the results are permanent and can provide a striking improvement.
Benefits of Facial Fillers
Facial fillers improve face shape by filling out areas that are thin or have lost volume due to aging. Enhancement with facial fillers is not meant to correct skeletal structure but rather to provide more moderate enhancement and correction of wrinkles and volume loss. Dr. Calabria uses facial fillers including Restylane®, JUVÉDERM®, RADIESSE®, natural collagen, and fat to enhance the face. These fillers can smooth fine lines, correct moderate to severe wrinkles, improve smile lines and marionette lines, volumize the face, augment the lips, correct mild nasal deformities, and improve the area around the eyes, and enhance the cheeks, chin, and/or jaw. Treatments are non-surgical and take fewer than 30 minutes to complete, and the recovery time is minimal to nonexistent. While the results are not permanent, they can be long-lasting. Many patients return for touch-up treatments to maintain their results.
Making the Right Choice For You
Making the right choice between facial implants and facial fillers depends largely on the type and amount of volume you wish to achieve. For permanent correction of your facial framework, facial implants may be the better option. For those who desire correction of wrinkles or volume loss, facial fillers may be more appropriate. Recovery time, permanence of the results, and other factors may also influence your decision. Dr. Calabria will help you to determine which treatment method is best for you and your needs.
Board-certified plastic surgeon Dr. Renato Calabria is a skilled specialist in cosmetic plastic surgery. Schedule your consultation with Dr. Calabria to find out how he can help you. Call (310) 777–0069 in Beverly Hills, (760) 836–0077 in Rancho Mirage, or +011.39.349.4662323 internationally. You can also contact Dr. Calabria online to schedule your private consultation.