WHAT IS BREAST AUGMENTATION?
Breast augmentation, also called "augmentation mammaplasty," is a cosmetic procedure performed by Dr. Calabria at his locations in Beverly Hills, Palm Springs and Italy, that adds volume to a woman's breasts with the use of implants. With so many options available, women can choose to achieve a silhouette that is balanced, feminine, and customized to the particular look and feel they hope to attain from a larger breast size. Patients often experience a significant confidence boost and an increased sense of femininity because of the many benefits of breast augmentation.
The Benefits of Breast Augmentation
Improves body image
Boosts confidence
Better Fitting Clothing
Achieved With Breast Augmentation Surgery
A NATURAL LOOK
If desired, patients can achieve a very natural look with breast augmentation. By evaluating your chest width and skin elasticity, Dr. Calabria can show you the implant options and surgical techniques that will give you the most natural-looking, balanced appearance.
ROUNDER, FULLER BREASTS
For a look that is rounder and fuller with more prominent cleavage, you can choose an implant that adds more fullness to the upper pole of the breast. The size, shape, and projection of the breasts is completely customized for each patient.
MORE CLOTHING CHOICES
With a fuller, more shapely bustline, women can fill out clothing and choose from more clothing styles. Swimsuits and tighter tops will fit better and appear more flattering with the newly enhanced breast shape.
INCREASED CONFIDENCE
Breast augmentation can make you feel better about the way you look, which can lead to increased confidence in all other aspects of life. Interacting with others and making the most out of every opportunity becomes easier when you look as good as you feel.


"Breast augmentation is based on achieving natural result by using state of the art techniques and tailored made implants specifically designed to reach that goal."
Choosing the Right Implant Type
Saline
Saline breast implants are filled with a sterile salt water solution after they are inserted into the breasts, so their size is adjustable during surgery. Because of this, saline implants require a smaller incision and result in a shorter scar than silicone implants.
Silicone
Silicone implants are the most popular option for augmentation and are said to feel more natural than saline. The thicker silicone gel they are made of makes them less likely to rupture than saline implants. Women must be at least 22 years of age to receive silicone implants.
Gummy Bear
Gummy Bear implants are thicker, more form-stable versions of silicone-gel implants. They come either round or anatomically (teardrop) shaped and pose less of a risk for capsular contracture, implant rupture, and implant rippling.
Advantages of Dr. Calabria's
Specialized Technique
Dr. Calabria's breast augmentation philosophy is based on achieving a natural result by using state-of-the-art techniques and tailor-made implants specifically designed to reach that goal. A variety of implant shapes are available to meet the needs and balance with the anatomical framework of the patient.
Many of Dr. Calabria's patients desire larger breast implants, which may look attractive initially, but with time they tend to stretch the skin and cause the breasts to sag. Dr. Calabria prevents this with the "dual plane" technique, which involves partially covering the implant with the pectoral muscle. Along with longer-lasting results, this particular technique provides less incidence of capsular contracture and implant rippling.
Each one of Dr. Calabria's breast augmentation techniques is based on meticulous dissection, minimal blood loss, and minimal trauma to the surrounding tissues, which results in less pain after surgery, a more rapid recovery, and fewer long-term complications.
Frequently Asked Questions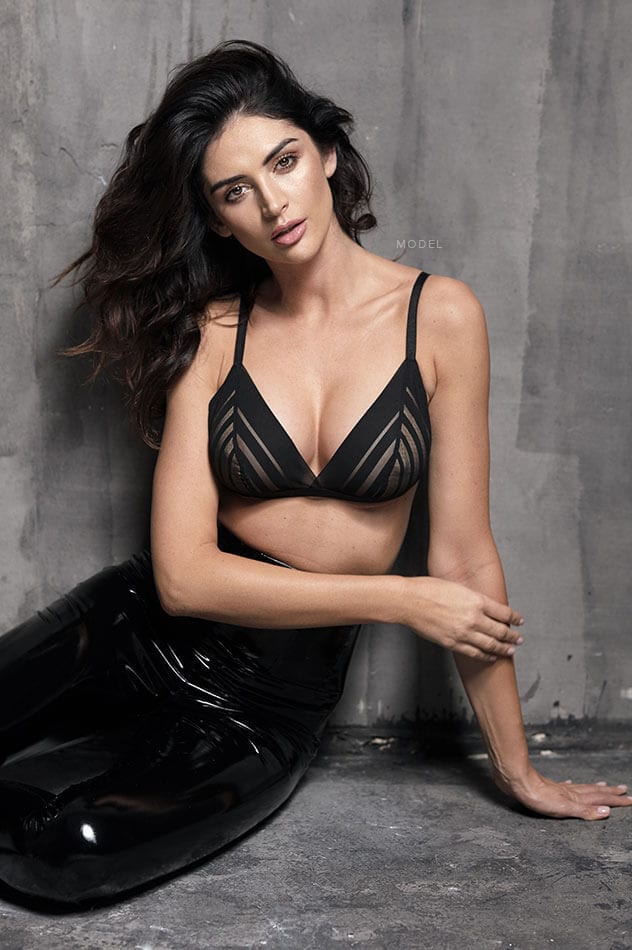 How do I determine the best implants for me?

The implant size, shape, type, and projection that is best for you will depend on many factors. During your initial consultation, you and Dr. Calabria will discuss your goals for the procedure as well as your physical anatomy and health history. Together, you and Dr. Calabria will decide the implants that will give you the look you desire in the safest and best way possible.

Where are the incisions placed for breast augmentation surgery?

The most common choices for incision location are the inframammary (beneath the breast, along the crease) and the periareolar (around the areola). Both incisions result in scars that will fade with time and are easily hidden along the body's natural folds and lines.

What anesthesia is used?

General anesthesia is typically used with breast augmentation.

What are the benefits of having an implant placed beneath the muscle rather than over it?

Placing the implant beneath the pectoral muscle may require a slightly longer recovery time than placement above the muscle, but it results in a lower risk of implant distortion, reduced chance of capsular contracture, and less visibility of implant rippling if it occurs. Dr. Calabria will help you choose the option that will best meet your needs.

Can the nipples be moved during the breast augmentation procedure?

The nipples cannot be moved during breast augmentation unless the procedure is combined with a breast lift. A breast lift will eliminate any sagging skin and lift the breasts to a more youthful position. When there is not significant breast sagging, a breast augmentation alone can make the nipples appear to be in a more youthful, central position because of the larger implant beneath them.

Will the results of breast augmentation surgery look and feel natural?

Your breast augmentation will look very natural if you choose an implant shape and size that complements your chest width. All types of breast implants feel very natural to the touch and will feel comfortable within your body unless you choose a size that is too large or heavy. Dr. Calabria will help guide you through the decision-making process to ensure you get the result you desire. Patients should note that sometimes the implants will take a couple of months to completely descend into the correct position, so they may appear unnaturally high at first.

Are there any limitations with breast augmentation?

Breast augmentation will not remove stretch marks, lift sagging breasts, correct nipple asymmetry, or move the breasts closer together. Breast augmentation is designed to increase the size of the breasts and improve their shape.

How long is recovery?

Recovery time varies among patients, but you should plan to be away from work and routine activities for at least two weeks. Swelling lasts about three weeks, but a minimal extent of swelling can be present for several weeks. Patients can typically resume exercise after six weeks, after which final results are usually apparent.
Our Patients Love Us
Testimonials
My sister had breast augmentation from Dr. Calabria and she looks great! I went through the process with her and cared for her after. She had no problems during surgery or recover. She healed up as expected and is thrilled with her new look. I really like the Doctor. He did a good job