Brow Lift
One of the first facial characteristics people notice is your eyes because they are essential for nonverbal communication. The eye area tends to show evidence of aging before other parts of the face, especially if the eyebrows appear heavy or droopy.
Sagging eyebrows can produce an upset or exhausted appearance, and they obscure youthful facial contours. Patients who opt for brow lift surgery enjoy a rejuvenated gaze, a pleasing facial balance, and improved self-confidence.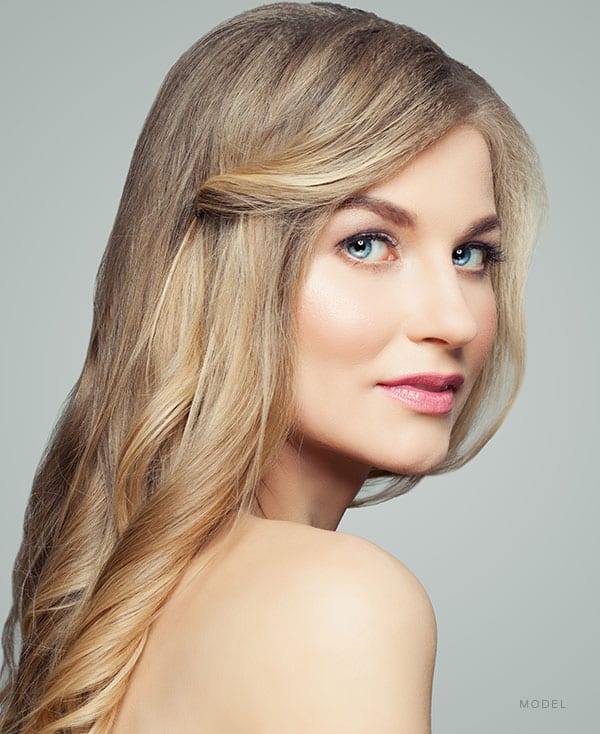 Who Is an Ideal Candidate for a Brow Lift?
Patients who wish to revitalize their appearance with a brow lift should be in good health and have realistic expectations for their outcome. This procedure does not address eyelid imperfections such as drooping eyelids and puffiness, so patients who desire to correct those issues may want to consider combining their brow lift with blepharoplasty, or eyelid surgery.
During your private consultation, Dr. Renato Calabria will assess the current condition of your brows and develop a surgical plan tailored to your needs. Ideal candidates for brow lift surgery may have one or more of the following:
Sagging eyebrows
Frown lines between the eyebrows
Obstructed vision caused by drooping eyebrows
What Is the Procedure Process?
Preparation
Pain medication and antibiotic prescriptions can be filled before your surgery to ensure you have everything prepared for your recovery. You will need a driver to take you to and from your procedure. Schedule a loved one to stay with you and handle daily obligations at least for the first day. Stop using tobacco products and adopt a healthy lifestyle prior to your surgery to help promote healing during your recuperation. Have plenty of water, cold compresses, and pillows available for your return home from surgery.
Procedure
A brow lift should produce subtle enhancement so as not to alter a patient's natural facial qualities. To avoid an "overdone" or distorted result, Dr. Calabria performs an endoscopic brow lift. An endoscopic brow lift is a minimally invasive procedure that involves inserting a tiny camera through small incisions in the scalp to adjust and tighten underlying tissues. Because the incisions are much smaller than those of a traditional brow lift, there is a lower risk of numbness and a faster recovery period. Sutures are removed within a week.
How Long Is the Recovery?
Brow lift patients need to rest for a few days after surgery. Cold compresses may be used to minimize side effects such as bruising and swelling. Keep your head elevated to assist in healing.
Gentle activity is recommended during the first week of recovery because it promotes circulation and lowers the risk of blood clots. Patients must avoid strenuous activities and heavy lifting for at least one month. During your initial consultation with Dr. Calabria, you will receive detailed aftercare directions that include how to care for your post-op incisions and what pain medications you can take.
What Results Are Expected?
It may take up to six months to see the final results of your brow lift surgery. There is no visible scarring because all incisions are placed behind the hairline. While this facial rejuvenation procedure is considered to be permanent, it does not prevent aging from occurring after surgery. It is recommended that you adopt a healthy lifestyle, including consistent sun protection and smoking cessation, to preserve your brow lift results.
FAQs About Brow Lift Surgery
Is brow lift surgery painful?

Most patients experience minimal pain after their brow lift. You can expect to feel mild discomfort, bruising, swelling, and a sensation of tightness in your forehead. Pain medication and getting plenty of rest can help alleviate your discomfort.

When should I get a brow lift?

There is no set age for when someone should undergo a brow lift. If the eyebrows and forehead have become lax and wrinkled, then you may benefit from a brow lift. Schedule your consultation with our team to determine if a brow lift is right for you.

Will I experience hair loss after surgery?

Alopecia, or hair loss, may occur temporarily with any procedure relating to the scalp. Incisions are typically hidden within your hairline, and shaving is not necessary. Temporary hair loss is a possibility, and the hair usually grows back after healing.
For more information about brow lift surgery and other facial rejuvenation procedures, please contact our Beverly Hills office at 310.879.1488, our Rancho Mirage office at 760.836.0077, or our Rome, Italy location at 39.349.4662323.
Our Patients Love Us
Testimonials
"Dr. Calabria has given me results that I never imagined I could have. After his performance on my face I have a new found confidence I didn't have before. And it's more than just a physical thing as his entire staff makes me feel warm and welcome every time a pay a visit"