WHAT IS A TUMMY TUCK?
Tummy tuck surgery, also called "abdominoplasty," is a cosmetic procedure sought after for its ability to sculpt the abdomen into a flatter, more aesthetically pleasing contour. This procedure involves removing excess skin and tightening the abdominal wall to reduce the evidence of past pregnancies, aging, and significant weight loss. In Beverly Hills, Palm Springs and Italy, Dr. Calabria has improved the outcome of this procedure with "abdomino-advancing-plasty," his specialized technique that minimizes scarring, shortens recovery time, and delivers improved results compared to a traditional tummy tuck.
Benefits of
Tummy Tuck
Achieves a flat, sculpted abdomen
Removes excess abdominal skin
Tightens weakened or separated abdominal muscles
Removes stretch marks from the lower abdomen
Acheived With Tummy Tuck Surgery
Firmer Abdominal Contour
Through a low-cut bikini-line incision, the abdominal muscles are tightened, and excess skin is trimmed away to reveal a firmer abdominal contour. Liposuction is often paired with this procedure to remove excess fat and achieve optimal results.
Shorter Recovery Time
Dr. Calabria's abdomino-advancing-plasty technique results in a shorter recovery time with almost zero seroma (fluid collection) because of the strategically placed incisions and sutures. Epidural anesthesia is used, which is safer than general anesthesia and also helps the patient return to normal faster.
Minimal Scarring
With Dr. Calabria's technique, less tension is placed on the scar, which results in a less noticeable scar and a lower chance of developing keloid and hypertrophic scars. The main scar will be located across the pelvis and can be easily hidden beneath a swimsuit. With a full tummy tuck, a small, unnoticeable scar will also be located within the navel.
Fewer Stretch Marks
Stretch marks from pregnancy and weight gain can be removed with tummy tuck surgery if they fall in line with the skin that is removed. Because less tension is placed on the incision, more skin, and therefore more stretch marks, can be removed with Dr. Calabria's technique.
FULL TUMMY TUCK
Addresses the upper and lower abdomen
Surgery time: 1 to 4 hours
Anesthesia: Epidural
Recovery time: 2 to 4 weeks
MINI TUMMY TUCK
Addresses the lower abdomen only
Surgery time: 1 to 2 hours
Anesthesia: Epidural
Recovery time: 1 to 3 weeks
How Is Dr. Calabria's Tummy Tuck Better Than a Traditional Tummy Tuck?
Traditional Tummy Tuck
No key suture placed
Less sculpted result
Less skin removed
More tension on the incision
Higher possibility of keloid or hypertrophic scars
Longer postoperative time
More seroma (fluid collection)
Abdomino-advancing-plasty
Key sutures placed
Much more sculpted result
More skin removed
Less tension on the incision
Minimizes scars and keloid and Hypertrophic scarring
Shorter recovery
Almost zero seroma
Frequently Asked Questions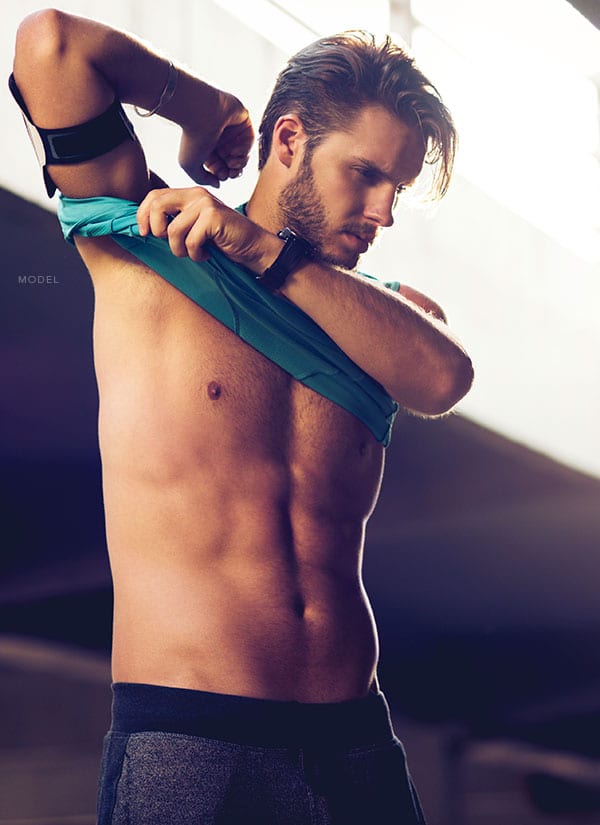 Who is the best candidate for a tummy tuck?
Those who experience the best results with tummy tuck surgery are within 30 percent of their ideal weight and have maintained their weight for several months. The tummy tuck procedure is meant to reduce excess skin and provide a more sculpted appearance, but it should not be viewed as a treatment for weight loss. Patients should not smoke for at least three weeks prior to surgery.
Is the procedure painful?
Patients will experience some swelling and discomfort after surgery that can be minimized by wearing a compression garment, getting plenty of rest, and taking pain medication prescribed by Dr. Calabria.
What are the risks with tummy tuck surgery?
As with any surgical procedure, there are some risks involved with a tummy tuck. These include bleeding, infection, fluid accumulation, numbness, prolonged swelling, fat necrosis, skin loss, and asymmetry. All risks will be discussed in detail during your initial consultation.
How long is the recovery process?
Patients should plan for a recovery period of about two weeks. Most swelling will dissipate within three to five weeks, and patients are usually cleared to resume regular exercise after six weeks.
What results can I expect?
The final result of a firmer, more sculpted abdominal contour is apparent immediately and will continue to improve as the body heals. Results with tummy tuck surgery are permanent unless the patient gains a significant amount of weight or becomes pregnant after the procedure.
OUR PATIENTS LOVE US
TESTIMONIALS
This place is amazing. Between the wonderful staff that work there that make you feel extra comfortable and the incredible Dr. Renato Calabria himself, I wouldn't go anywhere else!..