Breast Procedures
Many women find that their figure does not match their idealized self-image. One of the places that this comes up the most is around the bust. Some women want larger breasts, others want smaller ones, and others desire more perky and firm breasts. Fortunately, all of these desires can be accomplished through plastic surgery performed by the world-renowned, award-winning, board-certified plastic surgeon Dr. Calabria.
Breast Augmentation
---
Breast augmentation surgery is done by inserting implants under or over the pectoral chest muscle to create more volume in the breasts. This procedure provides larger breasts that match the desires of the patient. If you are dissatisfied with the size or shape of your breasts, breast augmentation surgery may be for you.
Most patients can return to work within two weeks of the operation, with final breast augmentation recovery occurring around six weeks. The results of this breast enhancement procedure are long lasting, with implants usually persisting for decades before requiring replacement, if needed at all.
Breast Lift
---
Breast lift surgery is a procedure designed to reverse breast sagging and improve the projection of the nipples. It is performed by tightening and lifting the breast tissue and removing excess skin to create a new, more perky breast contour. Dr. Calabria helped develop the laser-assisted breast lift technique, which creates perkier breasts with minimal scarring. If you are struggling with sagging, deflated, or less-than-perky breasts, breast lift surgery may help.
Most breast lift patients can return to work within two weeks, while full recovery usually takes four to six weeks post-surgery. Breast lift results are long lasting; however, a breast lift cannot stop the natural aging process. While your breast tissue will eventually give way to gravity and aging, your breasts will always be perkier than if you had not undergone the procedure.
Breast Reduction
---
Breast reduction surgery reduces oversized breasts by removing excess fat and glandular tissue. The operation provides smaller, perkier breasts that can reduce strain and pain in the back, neck, and other areas of the body. If your breasts are too large and cause you physical, social, or mental discomfort, a breast reduction may help you achieve your desired quality of life.
Most patients can return to work within two weeks of breast reduction surgery, with final recovery and results occurring between four and six weeks. The results of a breast reduction are permanent, though the breasts may increase in size as the result of a future pregnancy or weight gain.
Frequently Asked Questions About Breast Surgeries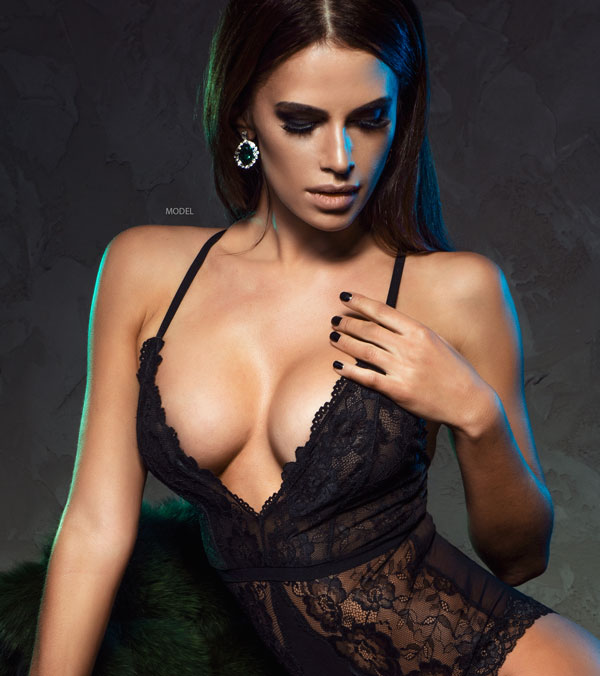 Can I combine multiple breast procedures into one surgery?

Yes, many patients undergo a combination of breast surgeries. A breast lift is often performed with augmentation to enhance the perkiness and volume of the breasts. Breast lift surgery may be performed with breast reduction for patients with large, sagging breasts who want smaller, more uplifted breasts. Breast augmentation and breast reduction are not performed together.

Can I combine my breast surgery with other plastic surgery procedures?

Will I have scars after my breast surgery?

As with any surgical procedure, some degree of scarring is inevitable with breast surgery. Fortunately, Dr. Calabria is a highly skilled and experienced surgeon who has a history of making incisions and scars as small and discreet as possible. Most patients find that their breast scars are scarcely noticeable, even in swimwear. All scars fade over time and may fade faster with proper care.

Will I feel pain during my breast enhancement surgery?

No. All breast procedures are performed under general anesthesia, so patients will not experience pain during the operation. Mild to moderate pain may occur during the first few days of recovery, but this is usually manageable with proper medication.