Body Procedures
When it comes to quality of life, the appearance and comfort of the body are important concerns for many people. People often become upset as their bodies change and age. Weight gain is most noticeable in the body and can have a big impact on appearance. Excess skin and fat after weight loss often cause irritation and rashes. Many patients wish to improve their bodies for personal as well as social reasons.
Dr. Calabria offers body contouring procedures to adjust the contours of the body. These plastic surgery procedures are specialized to treat specific issues in targeted areas. Each procedure can be customized to some degree to address concerns that may be unique to each patient. These procedures can often be combined to provide more impressive and comprehensive results.
To determine which procedure(s) will best suit your needs and what results can be achieved with these body contouring procedures, schedule a consultation with Dr. Calabria today.
Arm Lift Surgery (Brachioplasty)
---
Brachioplasty, or arm lift surgery, is used to remove loose, drooping skin from the upper arms. This procedure makes arms look tighter, younger, and more defined.
If you have sagging skin on your upper arms, especially after weight loss, or want your arms to look younger, you may benefit from arm lift surgery.
Most patients recover within two to four weeks depending on the extent of the surgery and enjoy long-lasting results.
Learn More About Arm Lift Surgery
Tummy Tuck Surgery (Abdominoplasty)
---
Tummy tuck surgery, also called abdominoplasty, is a procedure that sculpts the abdomen. It can remove excess skin, tighten lax abdominal muscles (diastasis recti), and create a flattened and sculpted appearance. Dr. Calabria offers his own specialized tummy tuck technique that reduces scarring compared to most tummy tuck surgeries performed by other plastic surgeons.
If you have loose skin and muscles on your abdomen, whether due to aging, pregnancy, or weight fluctuations, tummy tuck surgery can restore your youthful, pre-pregnancy belly. Patients may choose a full tummy tuck to address their upper and lower abdomen or a mini tummy tuck to address just the lower abdomen.
Most patients will require two weeks for their initial recovery and six weeks to be fully recovered and ready to resume daily activities.
Learn More About Your Tummy Tuck Options
Liposuction
---
Liposuction is a surgical procedure used to remove excess fat from targeted areas of the body. This procedure can help you achieve more slender body contours if you have unwanted fat deposits that do not go away with diet and exercise.
Dr. Calabria offers several liposuction techniques. Minimal techniques can reduce the initial liposuction recovery to as little as one day of bed rest and less than a week until full recovery. More extensive liposuction procedures may require longer recovery times.
The results of liposuction are long lasting. The removed fat will not grow back, though other fat deposits may grow over time, especially if the patient gains weight.
Learn More About Liposuction
Frequently Asked Questions About Body Procedures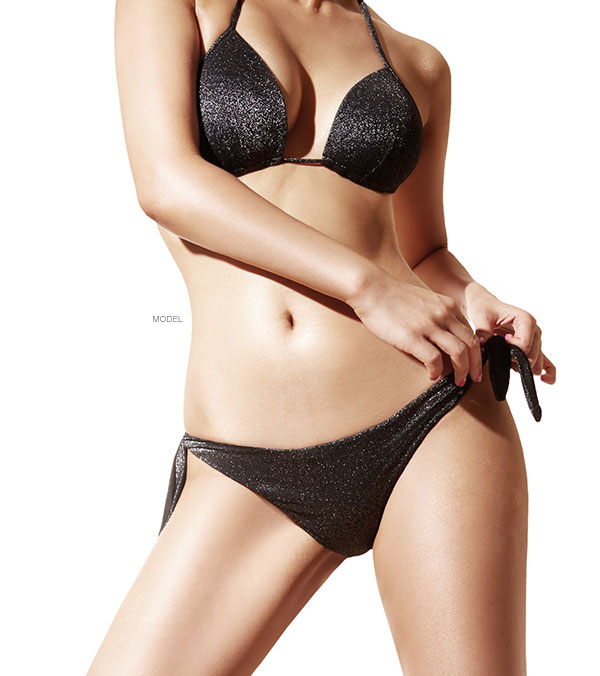 How much do body contouring procedures cost?

The cost of body contouring procedures can vary significantly depending on several factors, including the amount of loose skin removed, the techniques used, and the complexity of the procedure. Anesthesia fees, facility fees, and the cost of medications and post-surgical garments should also be taken into consideration.

After your consultation with Dr. Calabria, our office will be able to provide you with the exact price of your plastic surgery procedure.

Can I get multiple body procedures done at once?

Yes, most patients can get two or more body procedures as part of a single operation. Many patients choose to combine their procedures to save time and money compared to separate surgeries. Combination procedures allow patients to pay anesthesia and facility costs once rather than multiple times, and they can have a single recovery period from all procedures.

Ask your surgeon if procedure combinations will help meet your aesthetic goals.

Can I combine my body procedure with other plastic surgery procedures?

Yes, patients can combine their body procedure with facial surgery or breast surgery. Just like combining body procedures, this can save time and money compared to getting multiple procedures done separately. 

Consult with your surgeon about combining procedures. Some procedures should not be performed together due to conflicting lifestyle changes required during recovery.

Will I have scars after my body procedure?

All plastic surgery operations will result in some degree of scarring. Dr. Calabria is a highly skilled surgeon who does his best to ensure that scarring is minimized and placed in locations that can be easily concealed. All scars fade over time, and proper care can cause them to fade faster. Talk to Dr. Calabria about how to treat your scars during your recovery.

How long do plastic surgery results last?

In general, plastic surgery results can last between 10 years and the rest of a patient's life. However, that does not mean that a procedure's results will not change over time as the patient ages. Plastic surgery can only correct cosmetic issues that currently exist. It cannot prevent new issues from arising in the future due to factors such as weight gain, aging, or lifestyle changes.

A healthy diet and exercise regimen helps maintain plastic surgery results. Some patients choose to have procedures performed again after 10 years or more to maintain their ideal appearance.