Facelift in Beverly Hills
A facelift is a cosmetic procedure that reverses signs of aging on the lower face and neck. Traditional facelift techniques have often left patients with a "wind-swept" appearance and hollowed eyes, but Dr. Calabria avoids these undesirable outcomes with the revolutionary techniques he has developed. Each of his patients receives a personalized treatment plan that allows patients to effectively meet their goals and deliver the most natural-looking facelift results.
A facelift can rejuvenate your face by repositioning the deeper tissues, removing excess skin from the face, and tightening the remaining skin for a smoother appearance. If needed, fat can also be added to fill hollows and wrinkles to restore youthful fullness to the face.
What Are the Benefits
Erases fine lines, wrinkles, and excess skin on the face and neck
Provides natural-looking results that boost confidence
Allows your inner youthfulness to show on the outside
Can make you look up to ten years younger
Am I a Good Candidate for a Facelift?
Healthy patients who have cosmetic facial concerns, including wrinkles, fine lines, hollows, and sagging jowls, may benefit from a facelift.
There are many variations of facelift surgery that will be explained to you during your consultation with Board Certified Plastic Surgeon Dr. Renato Calabria
What Is Discussed During My Consultation?
During your consultation with Dr. Calabria, your different facelift options and desired end goals you may have will be discussed.
At your consultation, be prepared to discuss:
Your intended outcomes with a facelift procedure
Any previous medical conditions or medical surgeries you have had
Current medications, vitamins, alcohol, and tobacco use
Dr. Calabria may also:
Discuss your facelift treatment options or the type of anesthesia that will be administered
Examine, measure, and take photographs of your face
Discuss possible results of a facelift and any risks or potential complications
How Is Facelift Surgery Performed?
BEFORE & AFTER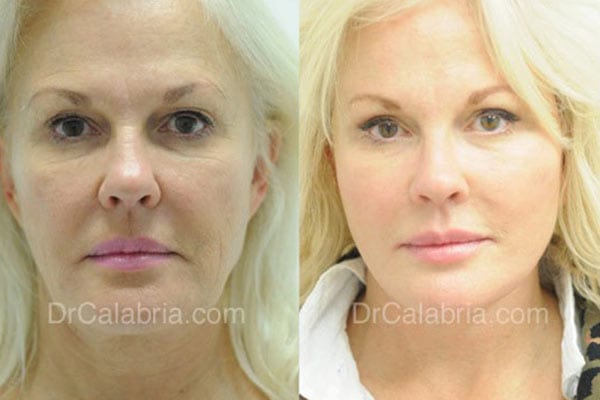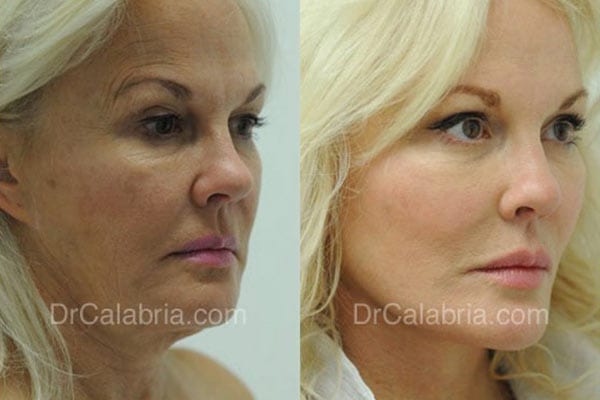 "Each of his patients receives a personalized treatment plan that will effectively meet their goals and deliver the most natural-looking facelift results.
View FaceLift Gallery
How Should I Prepare Before My Facelift?
In preparation for your facelift, you may be asked to have a medical evaluation done to ensure you are in a healthy state prior to the surgery. You should also stop smoking prior to your surgery, as this can create complications during your surgery and recovery. It is important to avoid taking aspirin and other anti-inflammatory drugs since they can increase bleeding and bruising.
How Much Does a Facelift Cost?
The average cost of a facelift is $7,655, according to 2018 statistics from the American Society of Plastic Surgeons. The cost of a facelift can vary greatly and depends on the techniques you undergo, the length of the surgery, the experience of the surgeon or injector, and anesthesia, facility, and other fees. After a consultation, Dr. Calabria can give you an exact price for your facelift in Beverly Hills. Financing options are available.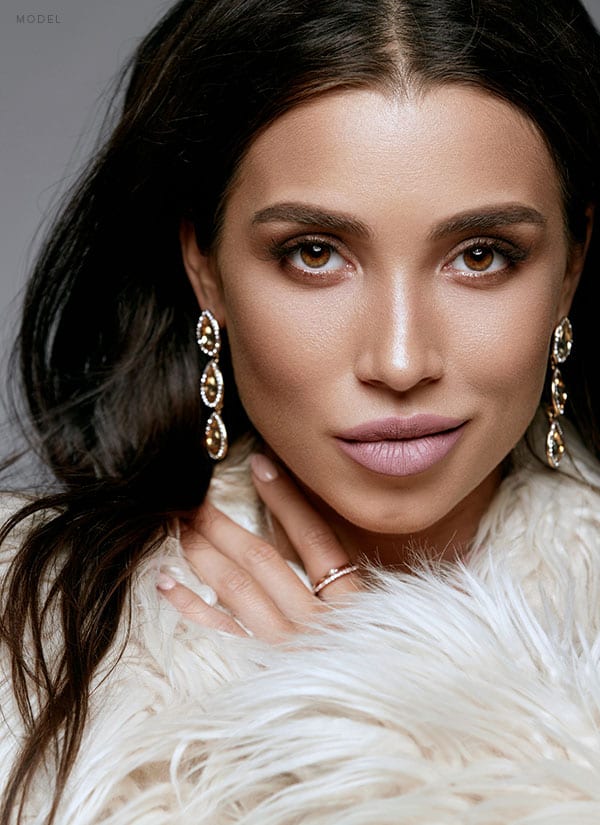 Characteristics of an "Overdone" Facelift
"Wind-Swept" Look
The "wind-swept" look is the most difficult problem to solve. The deep tissues need to be repositioned in a more vertical direction, which is accomplished with Dr. Calabria's vertical facelift. Dr. Calabria studies old images of the patient in their twenties and recreates a more youthful look by reverting the anatomy to the original shape. The fat and muscles of the cheeks are repositioned vertically. In addition, micro fat grafting is used to add volume to the cheek area.
Hollowed Eyes
The lower eyelid hollow is corrected by repositioning the orbicularis muscle and filling the space with micro fat grafting, which creates a fuller lower eyelid.
Forehead Aging
Forehead aging is corrected with an endoscopic brow lift. This procedure repositions the eyebrows and also improves the shape of the eyes, making them more open and almond-shaped.
Hypertrophic Scarring
The suspender's facelift will eliminate the tension at closure lines and minimize the previous scarring.
Flattened Cheeks
Dr. Calabria repositions the tissues of the cheeks in a more vertical direction, and micro fat grafting is used to add volume to the cheek area.
What Are Some Frequently Asked Questions About Facelifts?
What areas of the face benefit from a facelift?
The lower face, including the jowls, nasolabial folds (wrinkles around the mouth), beneath the chin, and the neck, all benefit from a facelift. Some improvement can be seen in wrinkles below the eyes with a facelift, but optimal improvement to this area can be accomplished with an eyelid lift. The facelift can also be combined with a brow lift to reduce wrinkles in the forehead area, which can provide an overall harmonious facial appearance.
How is a male facelift different from a female facelift?

A facelift for a man will have different goals from a facelift for a woman because of the different facial anatomy structure.
Is a facelift painful?
General anesthesia or local anesthesia will keep you pain-free during the procedure. After surgery, Dr. Calabria will prescribe pain medication that will help keep you comfortable and limit any possible complications that may arise.
What are the side effects of a facelift?
A hematoma (collection of blood under the skin) is the most common complication from a facelift, but it occurs in only one to five percent of facelift patients. If a hematoma occurs, it can be removed. Damage to the facial nerves can also occur, but this is rare. The majority of the time, the nerve injury is temporary and can take anywhere from a few days to a year to fully recover. Other complications are uncommon but include infection, loss of skin, unattractive scars, and asymmetry.
How long is the recovery after facelift surgery?
Most patients can return to work and routine activities after about two weeks. The extent and duration of swelling and bruising are different for everyone but typically subside after three weeks. Since any activity that increases blood pressure can prolong swelling, patients should wait at least three weeks before resuming exercise.
What results can I expect after my facelift surgery?
Since Dr. Calabria's results look very natural and maintain the patient's unique characteristics, others will notice your more youthful appearance, but they won't be able to determine whether you've had a facelift. Final results can last up to ten years or even longer if you consistently protect your skin from the sun and do not smoke, but the face will continue to age naturally over time.
Which Facelift Technique Is Right for You
Dr. Renato Calabria Explains Which Facelift Techniques Is Right for You
Are You Ready for a Facelift?
Am I Ready for a Facelift? Dr. Renato Calabria Explains
Our Patients Love Us
Testimonials
My best friend had a face-lift. She looks amazing. It seems to have taken fifteen years off of her face. It is truly amazing what Dr. Renato Calabria has accomplished to restore beauty to youth. I have scheduled my first appointment.