Posted May 06, 2020 in Facelift
3 Min Read
Facelift surgery can be great for anyone who would like to restore their youthful contours with permanent (or long-lasting) results. Once you know that you would like to get a facelift, the next step is to determine which type of facelift will work for you. Several facelift techniques have been modified by facial plastic surgeons to meet the varying needs of their patients.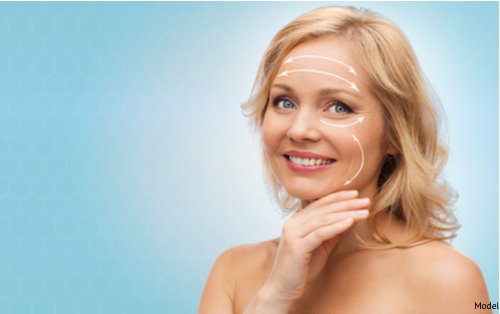 Dr. Calabria specializes (and has created) several forms of the traditional facelift so that patients achieve long-lasting youthfulness.
What Are My Facelift Options?
Your facelift surgery will be performed using one of the following techniques:
One-Stitch Facelift
The one-stitch facelift is ideal for younger patients who want to maintain a fresh and rejuvenated facial contour. With this technique, small incisions are made in the sideburns to permanently lift the deep skin and muscle in the jowl and cheek area. This procedure can be performed under local anesthesia and is good for patients who do not need extensive correction. One-stitch facelift surgery can be completed in as little as 30 minutes, and many patients can return to work the next day.
Stem Cell Enhance Facelift
A stem cell facelift is an add-on to a facelift that uses the person's own tissues to improve texture and encourage the body to heal itself. The method combines soft tissue that has been harvested from other areas of the body with fatty tissues, stem cells, and regenerative cells to create regenerative tissue. This new tissue is injected strategically under the skin, where it grafts to the surrounding tissues. The regenerative tissues will encourage the body to heal itself by producing more collagen and elastin. 
Suspender and Adjustable Facelift
Suspender and adjustable facelifts are designed to minimize the risks of noticeable aging and reduce scarring by relieving tension around the incision sites.
The suspender facelift uses suspenders (made of the patient's natural tissues) to pull and secure the tissues in a more youthful position.
The adjustable facelift is similar to the suspenders method, except it also uses nonabsorbable sutures to shift some of the tension away from incisions. The beauty of this facelift is that the sutures can be removed and adjusted to improve and maintain results with time.
Vertical Facelift
In the traditional facelift technique, the skin and muscles are pulled laterally towards the ears, resulting in an unnatural appearance. A vertical facelift is an alternative facelift technique that uses incisions on the sides of the face to lift facial tissues in a vertical direction. This technique is excellent for anyone who would like to add volume to the face (with combined micro fat grafting), minimize scarring, and achieve natural-looking results.
Facelift Revision
A facelift revision is a secondary procedure meant for patients who have already had a facelift and would like to improve their initial facelift results. Some people who have had a facelift complain about having a surprised or "wind swept" appearance. Facelift revision can help reposition facial skin, fat, and muscles, creating more natural-looking and youthful results.
How Do I Know Which Facelift Option Is Best for Me?
Each facelift technique comes with unique advantages. Before your consultation, be sure to take some time to think about what you are hoping to achieve from your facelift. An examination of your facial features will help your surgeon evaluate your skin condition and determine which type of facelift would be best for you.
Want to Learn More?
If you want to get a facelift and would like to learn more about your options, please contact Dr. Calabria by calling 310-777-0069 or by filling out our contact form to schedule a consultation.