Posted April 28, 2023 in Facial Fillers
4 Minute Read:
Over time, women and men experience a variety of cosmetic concerns on the face, including wrinkles, fine lines, and volume loss. These aesthetic imperfections can be frustrating, and you can only apply so much makeup to cover them up.
However, facial fillers can minimize (and even eliminate) these unsightly concerns to help you achieve smoother, fuller, more youthful-looking skin.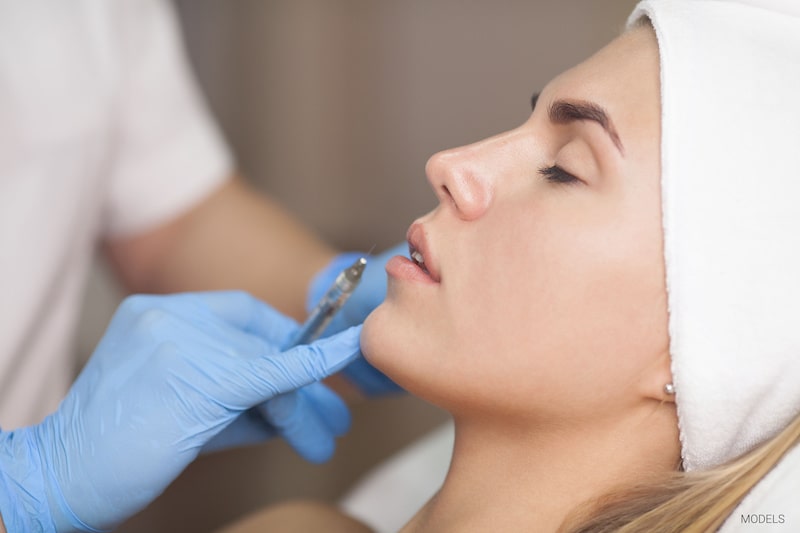 Facial filler treatments are some of the most common and effective cosmetic treatments available. Not only are they non-surgical and minimally invasive, but they offer stunning results you can feel proud of.
However, deciding which facial filler is right for you can be challenging, since there are so many different options available.
Below, we'll review three filler options offered by Dr. Calabria to give you a sense of which facial filler may be best for you.
What Are Your Facial Filler Options?
Dr. Calabria is proud to offer JUVÉDERM®, Restylane®, and RADIESSE® facial fillers. While these are all injectable "dermal fillers," they are not interchangeable. Instead, each filler addresses different cosmetic concerns and is used in specific areas of the face.
JUVÉDERM®
JUVÉDERM® is a hyaluronic acid-based injectable that can correct moderate to severe wrinkles and creases on the skin. The success and versatility of JUVÉDERM® has made it one of the most trusted names in dermal fillers and aesthetic treatments.
JUVÉDERM® can be used around the nose and mouth (including on nasolabial folds) to minimize wrinkles, or it can be injected into the cheeks or lips to augment their size and shape.
After your JUVÉDERM® injection, you can look forward to smoother, wrinkle-free skin that can make you smile with pride.
Restylane®
Like JUVÉDERM®, Restylane® is a hyaluronic acid filler that can help smooth the face and create a younger looking appearance.
However, Restylane® differs from other fillers in that it is used primarily to restore lost volume.
As we age, areas of our face can become thin and gaunt, which can cause us to look much older than we actually are. The cheeks and lips are two of the most common areas for this volume loss to occur. But after your Restylane® treatment, you can look forward to a fuller and healthier facial appearance that can improve your confidence.
RADIESSE®
RADIESSE® is similar to other dermal fillers in that it is used to create a fuller, more wrinkle-free appearance to the facial skin; however, it differs from both JUVÉDERM® and Restylane® in that RADIESSE® does not use hyaluronic acid.
Instead, RADIESSE® works by stimulating your natural production of collagen and elastin. This helps to improve the overall quality of your facial appearance, since these proteins are responsible for the health, strength, and elasticity of your skin.
So, with more collagen and elastin being produced, you can see significant improvements to your facial skin.
What Is the Difference Between Hyaluronic Acid Fillers and RADIESSE®?
As mentioned above, both JUVÉDERM® and Restylane® are made of hyaluronic acid. Hyaluronic acid (HA) works by attracting and retaining moisture in the skin. This means that skin creases are literally filled in from beneath the skin by the moisture, which also works to restore lost volume.
RADIESSE® is made of calcium hydroxylapatite (CaHA), which stimulates your body's own natural production of proteins. In this sense, your body is being jump started to heal itself. This can allow for longer-lasting results with RADIESSE® (about 15 months, compared to the nine to 12 months that HA fillers often achieve).
Which Is the Best Filler for You?
The best way to decide which filler is right for you is to schedule your consultation today. At your consultation, one of our skin care experts will evaluate your facial skin and listen to your frustrations and goals to develop a treatment plan for you.
Regardless of which facial filler you choose, you can rest comfortably with the knowledge that your treatment can help you look younger than you have in years.
Isn't it time you looked in the mirror and were happy with what you saw?
Do You Want to Learn More?
If you are interested in the benefits of facial fillers and want to find out which one may be right for you, then contact us today to schedule a consultation. You can call our Beverly Hills location at (310) 777-0069, our Palm Springs location at (760) 836-0077, our Milan or Rome, Italy locations at +39.349.4662323, or our Dubai location at +00971505450834.