Posted March 01, 2023 in Rhinoplasty
3 Minute Read:
Rhinoplasty (cosmetic nose surgery) is consistently one of the most popular and commonly performed cosmetic surgeries worldwide. 
The popularity of this procedure can be traced back to the fact that the nose is at the center of our faces, which means that it can affect our entire facial aesthetic.
A misshapen nose or a nose that is not proportionate to the rest of the face can create an imbalanced appearance, which can take a toll on our self-esteem and confidence.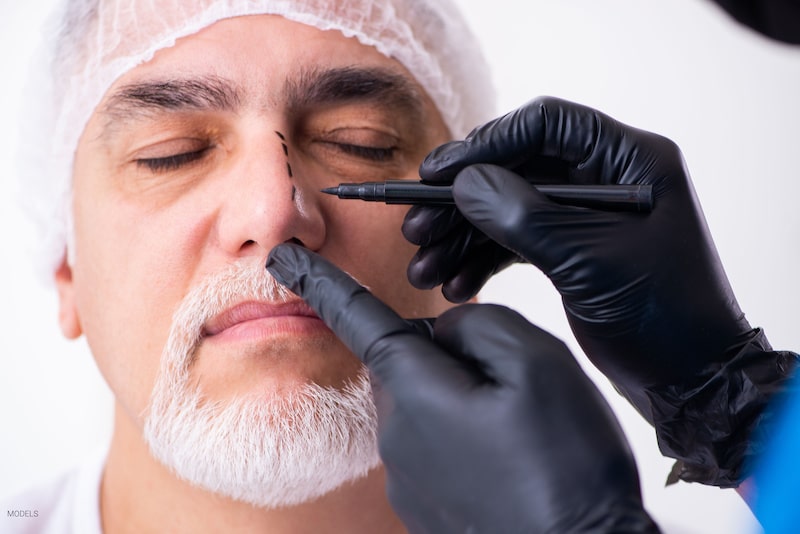 While it's true that the majority of plastic surgery patients are between the ages of 30 and 55, older and more mature patients can still benefit greatly from the procedure.
Nose surgery is helpful for patients of any age.
Below, we'll explore this procedure to help you better understand how rhinoplasty can help you improve your facial appearance, regardless of your age.
What Nose Imperfections Can Rhinoplasty Correct?
Whether from birth or a traumatic event (like an injury), rhinoplasty surgery can be performed to help correct:
An imbalanced face (noses that are too large or small)
A crooked nasal bridge
A wide nasal bridge
An upturned nasal tip
A downturned nasal tip
A broken nose
Large nostrils
A nasal hump(s) on the bridge
What Are My Rhinoplasty Options?
Rhinoplasty can be performed in one of two techniques: open rhinoplasty and closed rhinoplasty.
With open rhinoplasty, a small incision will be made on the columella (the area of skin between the nostrils). This technique allows your plastic surgeon to have a better view of the nasal structure, which is helpful during more detailed and intricate procedures.
Conversely, with closed rhinoplasty, the incision is made within the nostril, which hides resulting scars and usually allows for a faster surgery.
Ultimately, the rhinoplasty technique used for your nose surgery will be decided during your rhinoplasty consultation and is dependent on the type and extent of correction needed. Your cosmetic surgeon will listen attentively to your frustrations and aesthetic goals to develop a surgical plan that helps you achieve your desired results.
How Can I Customize My Rhinoplasty?
Undergoing rhinoplasty can help you transform your entire facial appearance; however, many older patients choose to combine other facial cosmetic procedures to address some other physical changes that might have crept in.
Some of the most common procedures that can be combined with rhinoplasty include:
In the end, whether you choose to customize your nose surgery by combining it with other procedures or you are simply looking to correct your nasal concern(s), there's no reason to put it off any longer.
You are never too old to look and feel your absolute best.
Is Now Finally the Time for Your Rhinoplasty?
If you are interested in rhinoplasty and want to know how it can benefit you, then contact us today to schedule a consultation. You can call our Beverly Hills location at (310) 879-1488, our Palm Springs location at (760) 836-0077, or our Milan or Rome, Italy locations at +39.349.4662323.