Posted February 03, 2023 in Facelift, Facial Rejuvenation Surgery
3 Minute Read:
Many of us do our best to combat the effects of aging and sun exposure. Still, pesky wrinkles, volume loss, and sagging skin eventually catch up.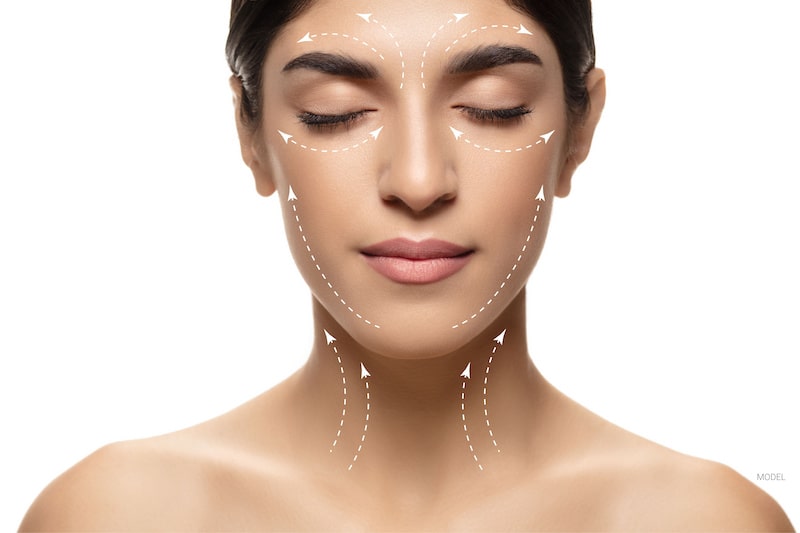 Luckily, advances in the world of cosmetic and regenerative technology can delay the need for a full facelift or improve results when it's the best solution.
What Does a Facelift Achieve?
Some individuals considering their facial rejuvenation options are unaware of a traditional facelift's limitations, and that other procedures might be needed to address their concerns.
A facelift can dramatically improve the following concerns on the mid and lower face (usually including the neck):
Lines and wrinkles
Loss of volume
Sagging skin
A facelift cannot address cosmetic issues that include:
Drooping upper eyelids
Bags under the eyes
A furrowed brow
Loose or wrinkled forehead skin
Long or thin lips
Cosmetic Procedures That Fix What a Facelift Can't
If you're troubled by cosmetic concerns not addressed by a facelift (primarily the eyes and forehead), consider the following procedures: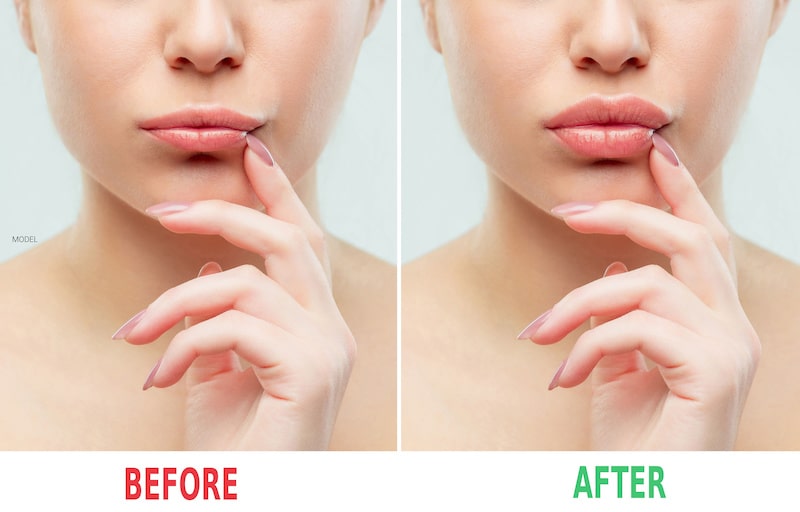 Eyelid surgery (blepharoplasty) – Upper eyelid surgery corrects wrinkled and sagging skin that hangs above or over the eyes that can obstruct vision. Lower lid surgery can smooth under-eye bags, fill hollows, and improve dark circles.
Forehead lift (brow lift) – A forehead lift can smooth lines and wrinkles in the forehead and between the brows while raising the brow line to a more youthful position.
Lip augmentation or lip lift – There are many ways to enhance the lips.
A lip lift raises the upper lip when age or genetics have caused excess space between the top of the lip and the base of the nose. This is referred to as a long lip, and fillers are not designed to shorten this distance. However, fillers or implants are often combined with a lift lip for ideal results.
Surgical lip augmentation is typically performed using a skin graft retrieved from elsewhere on your body or AlloDerm™ (a sterile, biocompatible skin product).
Non-surgical lip augmentation with lip fillers is a simple way to add volume to thin or thinning lips. Restylane® and JUVÉDERM® are hyaluronic acid-based dermal fillers that plump the lips and eliminate fine lines around the mouth.
A word of caution: Using lip fillers or grafts to add volume without correcting a long lip can produce unsatisfactory results.
A lip lift is considered permanent, but results are subject to the effects of aging, sun exposure, and lifestyle choices.
Lip augmentation results using grafts or fat are considered long-lasting and sometimes permanent.
Lip augmentation with dermal fillers is temporary.
When It's Time for a Facelift
Significant skin sagging over the mid to lower face and neck is difficult to correct without surgery, and this is when a facelift is the best solution.
Vertical facelift – This technique avoids the "wind-swept" appearance associated with traditional facelifts and is designed to restore a youthful appearance that is more "uniquely you."
Stem cell-enhanced facelift – In addition to the more advanced techniques used in a vertical facelift, adding stem-cell-rich fat gradually improves skin quality for a smoother, tighter, and fuller face with a youthful, radiant complexion.
Adjustable and suspenders facelift – This minimally invasive technique can achieve a more youthful facial appearance without the long recovery of a traditional facelift. This can be adjusted as needed to reduce skin laxity.
One-stitch facelift – The one-stitch facelift, or lunchtime lift, can be performed quickly under local anesthesia. If you select this option, there should be no bruising and only mild swelling. The only sign of surgery is small incisions around the sideburn, which heal within a week or two and become virtually invisible.
If you are planning to receive a PDO thread lift, consider the one-stitch facelift for longer-lasting results.
Facelifts, Brow Lifts, Lip Lifts, & Blepharoplasty in Beverly Hills
Dr. Renato Calabria is a highly respected Beverly Hills plastic surgeon performing facelifts and other facial rejuvenation procedures using the most advanced surgical and non-surgical techniques.
If you want to learn more about how our Beverly Hills board-certified plastic surgeon can help you achieve your cosmetic goals, call (310) 777-0069 today.
Dr. Calabria is now accepting new patients at his Beverly Hills and Rancho Mirage locations. 
Call (760) 836-0077 to reach our Rancho Mirage, California location.