Posted September 02, 2021 in Choosing a Plastic Surgeon
2 Minute Read:
Dr. Renato Cabria is a leading Beverly Hills board-certified plastic surgeon with over 20 years of experience specializing in aesthetic/cosmetic plastic surgery of the face, breast, and body. With world-class boutique offices in Beverly Hills, Palm Springs, Rome, and Milan, he has been named one of America's Top Plastic Surgeons by the Consumer Research Council of America and has amassed several awards for his notable contribution in the plastic surgery field.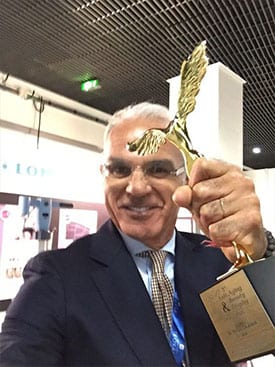 Dr. Calabria has gained an impeccable reputation with his peers and is a big proponent of stem cell therapy/regenerative plastic surgery. His reputation extends across the globe, having made presentations worldwide and written publications on the use of adipose-derived stem cells in cosmetic surgery.
Dr. Calabria is also recognized nationally for his role in the development of endoscopic/minimally invasive facial plastic surgery.
Latest Surgical Techniques
Dr. Calabria provides a refreshing approach to cosmetic surgical procedures. He uses the most advanced techniques in facelift surgery (including his vertical facelift), breast augmentation, and tummy tuck procedures to produce long-lasting, transformative, and natural results. Thanks to these techniques, his procedures are customized to suit the specific needs of each patient.
Natural-Looking Results
Dr. Calibria believes in helping people attain the best and most beautiful version of themselves without changing their original features. His goal is to enhance what you have by bringing out the best outcome in the safest manner possible.
You can trust that you will get beautiful-looking results, void of the overly plumped, taut, or frozen plastic look.
Dedication to Patients
Dr. Calabria's passion for aesthetic medicine and the positive impact it has on his clients shows in his work. Our medical team strives to stay abreast of the latest developments in aesthetic treatments to ensure our patients get the safest and most effective procedures available today.
During your consultation, Dr. Calabria will take the time to clearly understand your goals and take into account your unique condition and anatomy to provide a personalized treatment plan that delivers the aesthetic results you desire.
His philosophy is centered on listening to your concerns and offering honest suggestions to improve your appearance. Along with his friendly, caring, and knowledgeable staff, he will ensure you are comfortable and confident all through your experience.
Whether you want to tighten your aging skin with a facelift, enhance body contours with a tummy tuck, add volume with a breast augmentation or explore the latest non-invasive facial rejuvenation procedures, Dr. Calabria has a procedure for you. With years of experience in cosmetic surgery, he is fully qualified to bring you closer to your dream look.
Interested in Plastic Surgery? Schedule a Consultation With Dr. Calabria Today!
Contact us today at 310-777-0069 or fill our online contact form to schedule your consultation and discuss your cosmetic options with Dr. Calabria.