Posted March 01, 2022 in Facelift, Facial Rejuvenation Surgery
4 Minute Read:
As we age, the skin on our faces thins and loosens, causing our skin to appear older than we would like.
Luckily, there are cosmetic solutions, both surgical and non-surgical, to smoothen the skin to allow you to look younger and more toned than you have in years.
However, with so many options to combat facial wrinkles, the question isn't, "How can I get rid of these wrinkles?" but, "Which procedure is best for me?"
The information below can help you better understand the procedures available to you, and give you an idea of what to expect with each wrinkle treatment.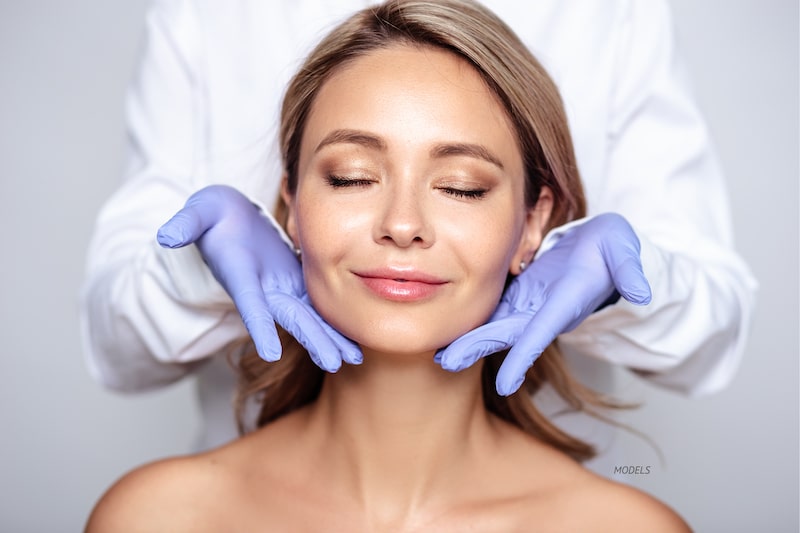 Surgical Procedures
With over half a million surgical procedures performed in 2020 to lessen the appearance of facial wrinkles, you can trust that surgery delivers the results you're looking for. There are three specific surgical procedures that target and help correct facial wrinkles.
Facelift
Facelift surgery is a surgical procedure that helps correct wrinkles, fine lines, and skin laxity on the lower two-thirds of the face. This procedure is perfect for patients with moderate to severe wrinkles around the mouth and nose as well as on the neck.
The underlying muscles will then be tightened, excess skin will be removed, and the remaining skin will be tightened. This results in smoother skin without the presence of wrinkles and other fine lines. Dr. Calabria offers various facelift techniques to help give you the exact results you've been looking for. These techniques include:
2. Eyelid Lift
Eyelid lift surgery (blepharoplasty) is a surgical procedure that treats wrinkles and fine lines around the eyes.
There are few places on the body that carry such enormous aesthetic importance as the eyes, which means that any age-related issues around them will make your entire face look worn out, tired, and old.
An eyelid lift can be performed on the upper eyelid (upper blepharoplasty), lower eyelid (lower blepharoplasty), or both, depending on the extent of the issues.
For this procedure, incisions are made along the natural crease of the eyelid. Intraorbital fat will then be redistributed, the circular eye muscle will be tightened, and any excess skin will be trimmed away. This results in a smoother and more symmetrical look for your eyes and the skin around them.
3. Brow Lift
Brow lift surgery (also known as a forehead lift) can help correct sagging skin on the eyebrows as well as fine lines and wrinkles across the forehead.
Dr. Calabria performs endoscopic brow lift surgery. For this type of brow lift, an incision is made at the hairline, and then an endoscope (a tiny camera) is inserted into the incision, allowing for a better view of the muscles that need to be adjusted and tightened.
After a brow lift, the upper portion of your face will look younger and more defined, since it will no longer carry as many age-related wrinkles and fine lines.
Non-Surgical Procedures
While surgical procedures can often help patients with moderate to severe facial wrinkles brought on by age, many patients who struggle with mild skin wrinkling prefer non-surgical approaches.
And with over 4,000,000 non-surgical facial treatments completed in 2020, you can feel safe knowing that these procedures are both safe and effective.
4. Facial Fillers
Facial fillers (or dermal fillers) are injectable treatments that help to smooth the skin and temporarily get rid of unsightly facial wrinkles and fine lines.
These injectable treatments, composed of either hyaluronic acid or calcium-based microspheres, help to lubricate the underlying tissue to increase collagen and elastin production in the skin. Collagen and elastin are responsible for the health, strength, and tightness/firmness of the skin.
One thing to think of with facial fillers, however, is that they often require multiple treatment sessions, and the results are not permanent. However, with a healthy lifestyle and maintenance treatments, your results can last you a long time.
5. Laser Skin Resurfacing
Similar to facial fillers, laser skin resurfacing treatments stimulate collagen production in the skin to give you a firmer and healthier facial appearance. With laser skin resurfacing, a carbon dioxide (CO2) laser removes layers of damaged and wrinkled skin to allow for new skin growth. This new skin is healthier and firmer than the old, removed skin, which will give your face a more youthful appearance.
Interested in Learning More?
If you have any questions about the different procedures offered to eliminate wrinkles from your face, please schedule a consultation appointment. You can call our Beverly Hills location at 310-777-0069, our Palm Springs location at (760) 836-0077, our Milan or Rome locations at +39.349.4662323, or our Dubai, UAE location (09) 715-05450834. You can also request your consultation online.