Posted January 03, 2022 in Breast Lift
5 Minute Read:
If you're concerned with the drooping appearance of your breasts, you may want to know whether you're a suitable candidate for a breast lift.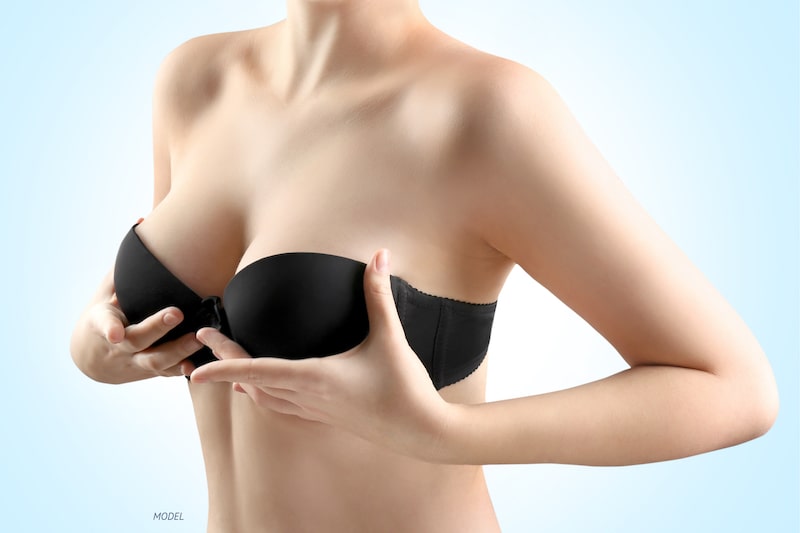 Issues like weight changes, pregnancy, and other life events can affect how your breasts look and sit on your chest. You may wonder, "Am I ready for a breast lift?
What Is a Breast Lift?
A breast lift is a cosmetic surgery designed to address sagging (ptosis), making the breasts appear more youthful and perky. A breast lift (mastopexy) does this by tightening the tissues in the breast and reducing some of the skin on the breast.
This surgery is not performed to change the size of the breasts significantly; instead, it focuses on the position, projection, and firmness of the breasts.
Breast lift surgery also repositions (and resizes) the nipple-areola complex, which is usually affected by age, weight gain, and pregnancies.
A breast lift can be performed alone or combined with implants (breast augmentation) or a reduction.
Do You Qualify for a Breast Lift?
If you recently gave birth or lost or gained excessive weight, chances are your breasts changed in shape and size. This can leave you with self-confidence issues.
Common reasons for sagging breasts include:
Age
Lack of breast support
Gravity
Candidates for breast lift surgery should be at a stable weight, not currently breastfeeding, and non-smokers. Women interested in this surgery should also be realistic in their expectations. While breast lift surgery can raise the breasts and significantly improve the shape, there is never a guarantee with any surgical procedure.
How Do You Know You're the Right Candidate for a Breast Lift?
Your Areolas and Nipples Point Downward
Ideally, your nipple-areola complex should be at or near the center of the breast and should be proportionate to the size of the breast. Unfortunately, pregnancy, weight fluctuations, and age can cause the areolas to become larger (or asymmetrical) and appear to fall to the lower part of the breast. This "falling" is due to the skin above the nipples stretching.
Breast lift surgery helps bring the breast upright, preventing your areolas and nipples from pointing downwards. Additionally, the nipple-areola complex can be repositioned higher on the breast, so it once again looks as though it is at the center of the breast.
Your Physical Health is Good, and You Can Maintain a Healthy Weight
A right breast lift candidate should be in good health and maintain a stable weight. Note that significant weight fluctuations, breastfeeding, and child-bearing can lead to breast sagging and change your post-operative breast appearance. That means if you plan to have a child in the near future, it would be best to wait.
Some factors that can prevent you from undergoing breast lift surgery may include:
Obesity
Clotting or bleeding disorders, for example, deep vein thrombosis
Family or personal history of breast cancer
Bleeding or clotting disorders, such as deep vein thrombosis
Speak to a Certified Surgeon
Dr. Calabaria is a board-certified plastic surgeon with decades of experience performing breast surgery. He uses innovative, advanced techniques designed to eliminate the horizontal scar under the breast (for a shorter-scar breast lift). He can also combine breast lift surgery with a CO2 laser (laser-assisted breast lift) to help support the breast.  
If you've been struggling with low self-confidence because of sagging breasts, contact Dr. Calabria today at (310) 777-0069 or fill out our online contact form. You can also visit our breast lift before and after gallery to see how Dr. Calabria has helped his previous patients.