Posted July 15, 2022 in Eyelid Lifts, Facelift
4 Minute Read:
The reality is that the face is the most exposed part of our bodies, out there in the open for everyone to see. So, you want to make sure that your face is looking exactly the way you want.
Unfortunately, many men and women struggle with their facial appearance. They may be upset about wrinkles, fine lines, and other signs of aging.
The good news is that there are various plastic surgery procedures that can help you achieve the look you desire for your face.
While facelift is one of the most transformative and successful cosmetic surgeries available, with nearly 235,000 procedures performed in 2020, the truth is that a facelift won't be able to address all of your facial concerns.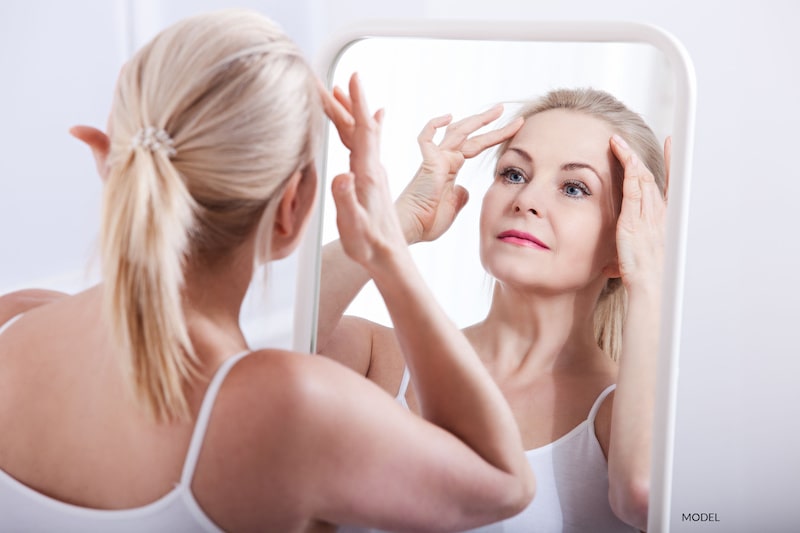 So, if you are looking for complete facial rejuvenation, then adding eyelid surgery to your facelift is your best bet.
This blog will look at these two procedures as well as some of the reasons you might want to consider combining them.
What Is a Facelift, and How Is It Performed?
Facelift surgery is one of the most trusted cosmetic surgery procedures available. Wrinkles, fine lines, and sagging facial skin are all addressed with a facelift to give you a more contoured and defined facial appearance.
Facelift steps:
An incision is made at the temples.
This incision extends down the sides of your face, ending at the lower scalp.
An additional incision may be made under your chin to correct any issues that may be present there.
After the incisions are made, Dr. Calabria will tighten the underlying facial tissue and muscles with internal sutures.
He will surgically remove any excess and sagging skin.
Dr. Calabria will tighten the remaining skin and close the incisions to give you a more youthful appearance.
What Is Eyelid Surgery, and How Is It Performed?
Eyelid surgery (also known as blepharoplasty) is a cosmetic procedure that involves removing excess and sagging skin on the eyelids as well as getting rid of puffiness around the eyes that can make you look old and tired.
You can choose to have either upper blepharoplasty, which addresses issues in the upper eyelid (including sagging skin that can obstruct vision); lower blepharoplasty, which address issues in the lower eyelid; or a combination of both upper and lower blepharoplasty for a more complete correction.
Upper blepharoplasty steps:
An incision is made in the natural creases of the eyelid.
Excess fat, tissue, muscle, and skin will be surgically removed to give you a calmer, more youthful aesthetic.
Lower blepharoplasty steps:
An incision is made just below the eyelashes.
Excess fat, tissue, muscles, and skin will then be surgically removed or redistributed to give you a more rested appearance.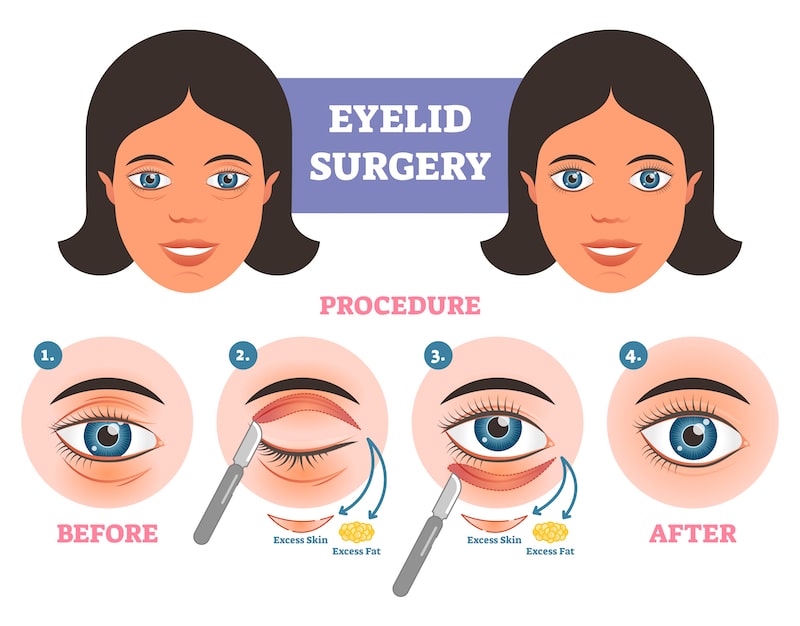 Why Should I Combine These Procedures?
There are several reasons why you might want to think about adding eyelid surgery to your facelift, including:
More Complete Results
If you choose to undergo either facelift surgery or eyelid surgery as a standalone procedure, you will have dynamic results; however, if you are looking for a more complete rejuvenation to the appearance of your face, then combining these procedures is the right choice.
This is because facelift surgery (despite misconceptions) only addresses the lower two-thirds of the face, from the cheekbones down to the neck. If you want to correct the upper third of your face, then you will want to also have eyelid surgery.
Another procedure to consider is a brow lift (forehead lift). Combining procedures allows your entire face to be transformed!
More Balanced Appearance
Because a facelift only addresses the lower portion of the face, and eyelid surgery only addresses the upper portion, if you just have one of these procedures performed, then your entire facial aesthetic can look unbalanced.
It's similar to only cutting half of your hair.
By combining procedures, you get more dynamic and balanced correction to your face.
Reduce Overall Cost and Recovery
No one wants to pay more for a plastic surgery procedure than they have to, and no one wants to have a longer recovery time than necessary. But by having facelift surgery and eyelid surgery at separate times, you will be paying more and having a longer recovery period.
The cost of your cosmetic surgery includes facility fees, surgeon fees, anesthesia fees, and so much more. However, when you combine procedures, you are only paying once, since the surgeries are happening at the same time.
Similarly, if you have facelift surgery and eyelid surgery at different times, then you are recovering from two procedures at separate times. But, when you combine procedures, you will be recovering from both procedures at the same time.
Interested in Learning More?
To learn more about the benefits that facelift and eyelid surgeries can have on your facial aesthetic, contact us today to schedule a consultation. You can call our Palm Springs location at (760) 836-0077, our Beverly Hills location at (310) 879-1488, or our Milan or Rome, Italy locations at +39.349.4662323.