Posted August 15, 2022 in Facelift, Facial Rejuvenation Surgery
5 Minute Read:
With almost 230,000 procedures, facelift surgery was the third most performed cosmetic surgical procedure performed in 2020. 
And it's not hard to see why this procedure is so popular.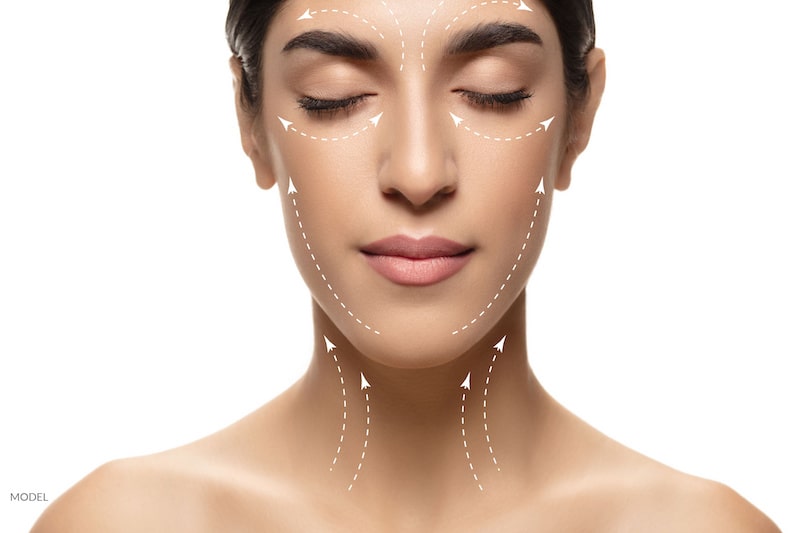 Facelift surgery can help give you the youthful facial appearance you've been looking for by reducing the presence of wrinkles and fine lines and tightening the facial skin to get rid of excess and sagging skin on the face.
However, what many people do not realize is that there is not one single facelift technique. Instead, there are several different facelift methods to choose from.
At your consultation, you and Dr. Calabria will discuss which facelift type may be best for you. Still, it is important to understand a little bit about the different facelifts available so that you have a better idea of what you would like.
Below, you will find information on five of the most popular and transformative facelift options.
1. Vertical Facelift
Traditional facelift surgery stretches the facial skin horizontally, which often causes the face to look windswept and unnatural.
However, with a vertical facelift, your skin (which sags downward due to gravity) is pulled to a higher level (and not to the side). This gives you a much more natural appearance.
A vertical facelift is great for patients who are struggling with wrinkles and fine lines along with sagging skin on the lower portion of their face. For this procedure, fat, tissue, and muscles in the lower portions of the face are repositioned, and the skin is pulled vertically.
Dr. Calabria also injects micro fat that has been harvested from your body to create a voluminous appearance.
After this facelift procedure, patients can see a more lifted appearance to the cheeks and corners of the mouth. Also, patients who are frustrated with the presence of jowls or excess skin in their neck (often called "turkey neck") can benefit from this transformative facelift surgery.
2. Stem Cell-Enhanced Facelift
One of the most revolutionary procedures is the stem cell-enhanced facelift, which is often used in conjunction with vertical facelift surgery.
Adipose tissue-derived stem cells are collected from your body (harvested from the lower abdomen) with the aid of liposuction surgery. These stem cells help to restore volume and add to the overall health of your face and facial skin.
During your vertical facelift, Dr. Calabria will insert stem cell-infused fat into various layers of your facial tissue, beneath your muscles, to help give you a fuller and more youthful facial appearance. This facelift treatment is perfect for men and women who have hollowed out areas in their lower face, either from age or life events.
3. Suspenders and Adjustable Facelifts
For patients suffering from wrinkles (especially deep nasolabial folds and marionette lines), and skin laxity in the mid and lower face (including jowls), the suspender and adjustable facelift techniques are great options.
One of the most common concerns for facelift patients is scarring after their procedure. However, with a suspender facelift or adjustable facelift, men and women do not need to worry about any tell-tale scarring on their face.
Suspender Facelift
For the suspender facelift, Dr. Calabria will only surgically remove the top layer of skin (the epidermis). He will then create two suspenders from your facial tissues along with two pockets and small tunnels in your facial tissue.
The suspenders (also known as flaps) will be inserted into the tunnels and pulled until they are even with the created pockets.
Finally, an absorbable suture is used to hold the suspenders in place.
This procedure helps to reduce visible scarring on the face as well as give you the lifted and youthful appearance you desire.
Adjustable Facelift
As the name suggests, an adjustable facelift allows you to adjust your facial appearance over time.
This facelift begins the same way as the suspenders facelift, but a nonabsorbable suture is used. This suture is placed through the suspender tissue but is not tied. A second suture is then used to hold the facial tissue and skin in place.
As your skin continues to naturally loosen and sag over time, the sutures can be tightened to give you prolonged results.
Not only will you have a more youthful and scar-free appearance, but you will be able to keep your facial aesthetic even longer.
4. One-Stitch Facelift
The one-stitch facelift is excellent for men and women who are worried about downtime or the appearance of scars.
For this procedure, a small incision will be made on either side of your head, at your sideburn level. A tunnel is created in the area, the loose skin is de-epithelialized (where the dermis is separated from the epidermis), and then this skin is pulled through the tunnel and anchored in place with an internal suture (one stitch).
After your one-stitch facelift procedure, you can feel confident in your smoother, more youthful appearance. Additionally, the appearance of nasolabial folds, wrinkles, and skin laxity should be improved.
And, along with all of these stunning results, you will have scars that can barely be noticed.
5. Facelift Revision
While no one wants to think that they will be unhappy after their plastic surgery procedure, this does happen. For men and women who have had facelift surgery and have been left with frustrating and unsatisfactory results, facelift revision surgery can be performed to help give you the facial appearance you desire.
For this procedure, Dr. Calabria will perform a vertical facelift while also addressing the resulting issues left by the original facelift surgery.
Dr. Calabria is dedicated to helping you achieve the facial aesthetic you want so that you can look at your reflection in the mirror and smile at what you see.
Interested in Learning More?
To learn more about which facelift option may be right for you, contact us today to schedule a consultation. You can call our Palm Springs location at (760) 836-0077, our Beverly Hills location at (310) 879-1488, or our Milan or Rome, Italy locations at +39.349.4662323.