Posted July 25, 2019 in Blepharoplasty, Eyelid Lifts
Aging can affect each facial feature differently. In the eyelids, the ligaments and muscles may become lax, the fat pads may protrude, and the skin may become loose or develop textural changes over the years.
Eyelid surgery, also known as blepharoplasty, can correct these signs of aging and help you appear younger. Board-certified plastic surgeon Dr. Renato Calabria can perform upper or lower blepharoplasty, individually or in tandem, to rejuvenate your appearance and achieve youthful eyes.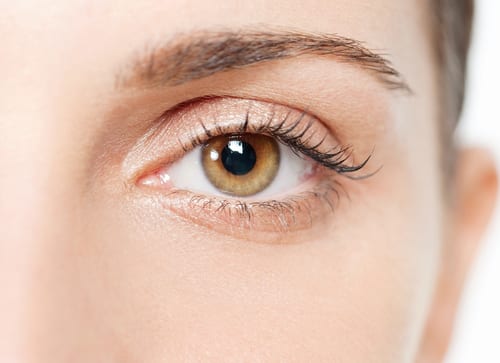 What Is Upper Blepharoplasty?
Upper eyelid surgery addresses aging in the top eyelids, and the surgical approach is meticulously delicate. An overly aggressive approach can render an inauthentic outcome.
To ensure that results look optimally natural, Dr. Calabria performs an endoscopic eyelid lift to correct loose, sagging skin. He does not violate the muscle, removes only a minimal amount of skin, and excises very little fat. Leaving the eyelids almost intact and gently lifting the skin to reposition them is typically all that is needed to meet the needs of each patient.
What Is Lower Blepharoplasty?
To address lower eyelid aging, Dr. Calabria addresses the structural components of the bottom lids directly. He first elevates a skin flap to preserve the muscles and retain function and support. The bulging, herniated fat pads are then redraped, without removal, to avoid a gaunt, hollow look.
In some cases, a thin layer of an acellular tissue matrix (a type of biomaterial derived from processed human or animal tissue with the cells removed) may be utilized for improved tissue support and reinforcement. He also addresses ligament and tissue laxity by surgically stabilizing and reinforcing them with skin muscle flaps and sutures.
What Are the Expected Results?
With each of these procedures, both functional and cosmetic signs of eyelid aging can be corrected. Dr. Calabria can perform the appropriate surgical techniques to restore a more youthful appearance and function to the eyelids, thereby preserving a more aesthetically pleasing and refreshed appearance overall.
Here is an article written by Harvard Health Publishing that you can read to learn some of the warning signs you should be concerned about regarding eye or eyelid problems.

Please view our photo gallery to see other patients Dr. Calabria has helped achieve desirable results.
Can I Combine Blepharoplasty With Other Procedures?
Many patients want a full facial refresh to address multiple concerns at once. During your consultation, express your desires and preferences so that Dr. Calambria can recommend which procedures may benefit you the most. Some patients may combine their eyelid surgery with a brow lift to reposition the eyebrows and tighten the forehead skin or a facelift to revitalize the midface.
There are also minimally-invasive techniques available to help reduce the signs of aging, such as facial fillers to replenish lost volume and fullness, and laser resurfacing to improve the texture of your skin.
To learn more about blepharoplasty and other facial rejuvenation techniques, schedule a consultation with Dr. Calabria today! He has offices in Beverly Hills (call 310.777.0069), Rancho Mirage (call 760.836.0077), and Rome (call 39.349.4662323) or you can fill out our online contact form.