Posted August 23, 2018 in Lip Augmentation
Pouty lips have become a trademark for women who desire to look sexy and sensual. While some women wish to enhance their small, thin lips, others want to erase the appearance of lines that have developed around their mouth. Lip augmentation is a cosmetic procedure that can effectively plump the lips to give you the pout you desire. Dr. Calabria provides various treatments, such as a lip lift, dermal fillers, fat grafting, and laser peels, to help patients achieve sexy, fuller lips.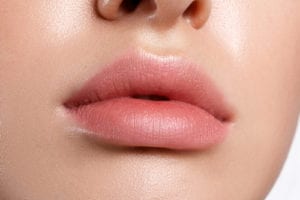 Lip Lift
A lip lift is a surgical procedure performed under local anesthesia that can improve the appearance of the lips by reducing the distance between the upper lip and the nostrils. An incision will be made in the crease at the bottom of the nose as the skin is repositioned to lift the upper lip. This will create a more plump and pouty appearance. Lip lift surgery can also be performed alongside dermal fillers to provide fullness to the lips.
Dermal Fillers
Nonsurgical dermal fillers, such as Restylane®, are made of hyaluronic acid that can eliminate fine lines around the mouth as well as provide shape and fullness to the lips. Hyaluronic acid occurs naturally in the body and aids in the health of the skin. Using a fine needle, the filler is injected into the lips as the hyaluronic acid rejuvenates and plumps your skin while also diminishing the appearance of lines for a softer and more natural look. Patients must be in good physical health to undergo this treatment.
Fat Grafting
Fat grafting is a surgical procedure that uses liposuction and fat injections to enhance the shape and size of the lips. Fat is harvested from different parts of your body through liposuction. The fat is then processed and purified before it is injected into the lips. Like dermal fillers, fat grafting is an effective procedure that can provide volume to the lips and enhance thinning lips for a fuller appearance. While fat grafting is not permanent, it provides longer lasting results than other dermal fillers.
Laser Peel
A laser peel is an effective treatment that can reduce the appearance of fine lines around the lips. The patient's skin type will be examined to determine the best approach to obtain ideal results. A Fraxel® laser is usually suitable for patients with darker skin, while a fractional CO₂ laser is more appropriate for patients with lighter skin tones.
To learn more about lip augmentation and determine if you are a good candidate, contact our office to set up your consultation with Dr. Calabria. You can reach our office by calling 310.879.1488.