Posted July 27, 2018 in Plastic Surgery for Men
Cosmetic surgery has traditionally been seen as something just for women, but in today's society, that belief has shifted. More and more men see the benefits of cosmetic enhancements, and more and more men are seeking procedures to help treat and manage the aesthetic conditions they are experiencing. We've also seen an increase in the number of men turning to Dr. Calabria to help them enhance their appearance.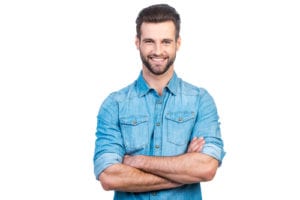 What Are the Most Popular Procedures?
A recent study performed by the American Society of Plastic Surgeons demonstrates that the needs and desires of men are changing. In 2017, men accounted for 1.3 million cosmetic procedures (only 8 percent of the overall total procedures). In 2017, 214,434 surgical procedures were performed on men (a decrease of 46 percent since 2000), while 1.1 million minimally invasive procedures were performed that same year (an increase of 76 percent since 2000).
What Does This Mean?
As the data suggests, men, by and large, are not looking for significant surgical enhancements. Instead, they are looking for procedures aimed at helping their skin. Minimally invasive procedures were far more popular than surgical procedures. Of these minimally invasive procedures, the most popular in 2017 were:
Botulinum toxin type A injections (467,760 procedures)
Laser hair removal (184,368 procedures)
Microdermabrasion (142,842 procedures)
Chemical peel (107,425 procedures)
Soft tissue fillers (99,520 procedures)
Additionally, Botulinum toxin type A injections have seen the most substantial increase since 2000. With an almost 400 percent increase, this statistic shows that men feel strongly about rejuvenating their skin, removing lines and wrinkles, and minimizing the effects of aging. Of the surgical procedures, which made up 16 percent of procedures performed on men in 2017, the most popular were:
Rhinoplasty (52,393 procedures)
Eyelid surgery (32,281 procedures)
Liposuction (28,180 procedures)
Gynecomastia surgery (26,839 procedures)
Hair transplant (14,443 procedures)
Though these procedures make up the most popular surgical procedures performed on men, they are losing popularity. Except for gynecomastia surgery, each type of surgery has seen between a 45 and 65 percent decline in popularity since 2000. However, the procedures that have been increasing in popularity since 2000 include buttock lift, cheek implants, thigh lift, calf augmentation, and tummy tuck.
Why The Shift?
While overall procedures performed on men has increased 29 percent since 2000, surgical procedures have declined 46 percent during the same time frame. Yet minimally invasive procedures have increased 76 percent. So why the shift toward minimally invasive procedures now?
Shifting Influences
A study titled "Analysis of the Factors Affecting Men's Attitudes Toward Cosmetic Surgery: Body Image, Media Exposure, Social Network Use, Masculine Gender Role Stress and Religious Attitudes," published last year in "Aesthetic Plastic Surgery," points to multiple factors that have increased a man's likelihood of undergoing cosmetic surgery. However, of their identified factors, one, in particular, stands out as something new.
One factor that led to a man's desire for cosmetic procedures was increased time spent on social media. With the rising popularity of social media platforms, the proliferation of smartphones, and the fact that more and more media is available to us at every minute, men (and women) are being bombarded with images of the perfect hair, the perfect body, the perfect skin, etc. While multiple factors ultimately guide a man toward his decision to undergo cosmetic procedures, social media is a clear contributing factor.
Youthfulness and Vitality
Appearing youthful is a dream that many have. People make assumptions about you based on your appearance, and looking youthful is associated with energy, stamina, and, often, your competence to perform tasks. Cosmetic procedures can help create a more youthful aesthetic for you. Most of the popular minimally invasive procedures are aimed at enhancing the skin: removing lines and wrinkles, restoring lost volume, minimizing age spots and sun damage, and revitalizing aging skin. By rejuvenating the appearance of the skin, men can look years younger.
If you're interested in learning about how you could benefit from cosmetic procedures, contact our office to set up your consultation with Dr. Calabria. You can reach our Beverly Hills office at 310.879.1488, our Rancho Mirage location at 760.836.0077, or our office in Rome, Italy, at 39.349.4662323.