The age of inflation is over in Tinseltown, where the over-plumped faces of yore are leading to increasingly diminished returns for celebrities and surgeons alike.
By Rachel Brown :: Photographed by George Chinsee
Did she or didn't she?
These days, as a new aesthetic takes hold in Hollywood, it's getting harder to tell. Call it the dawn of a deflationary era, a time in which the pushed, plumped, plucked and pulled Hollywood ideal is yielding to something approaching human. Exaggerated lips, rigid foreheads, jumbo breasts and higher-than-high cheekbones are becoming jarring relics of a desperate battle against aging. (Of course, they can still be examined for historical purposes on reality-television shows like The Real Housewives of Beverly Hills.)
The newbeauty ideal is easy, fresh and relatable. The prototype could be a mash-up of Jennifer Aniston, Kate Hudson, Blake Lively, Paula Patton and Zoe Saldana, all of whom are gorgeous, but none of whom conform to Hollywood's cookie-cutter beauty ideal. Neither Aniston nor Lively have perky button noses. Hudson's, Aniston's and Saldana's chests are appropriately sized for their athletic builds. All have laugh lines when they smile.
"There is a greater acceptance of women and aging, and a feeling that women can be beautiful without doing all of that," says Sarah Finn, casting director for TRO1V: Legacy, Wall Street: MoneyNever Sleeps and Thor, discussing Botox, fillers, surgery and the like. "Female-driven movies like The Kids Are All Right are a good example. The movie was trying to be real and authentic, and both Julianne [Moore] and Annette [Bening] looked like real people."
But don't be fooled. Screen-worthy beauty is more than ever the craft of plastic surgeons, dermatologists, aestheticians, dentists, makeup artists and hairstylists. It's just that the craft is changing. The newbeauty bench- mark requires aesthetics professionals to have a deft touch and keen eye. Unlike some reality stars whose anatomy appears purchased off the assembly line, actresses and actors of substance don't want to look like they've popped out of a plastic mold. They want to retain their individual- ity and come across as themselves, but in the best possible state, so that they look immune to the worst effects of aging.
"It is a beauty business," says April Webster, casting director for the upcoming movie Mission Impossible: Ghost Protocol as well as the television programs Fringe, Criminal Minds and Lost, of Hollywood. "It's unfortunate, but it is understandable that people want to look younger. We don't venerate age and experience. We venerate youthfulness and attractiveness, especially when we are doing films and television shows."
"Celebrities want to portray themselves as natural, so they claim that they don't have plastic surgery. The fact is that they do," agrees plastic surgeon Renato Calabria. "Plastic surgery has a bad rap because you see some celebrities that have overdone it."
Plausible deniability—or the art of fine-tuning in the range of the genetically probable—is the objective. Moderation is critical to success today, a stark contrast to the age of overload that took off when Botox first promised wrinkle-free ambitions in the Nineties and early 2000s, and injectable fillers such as Restylane, Juvederm, Sculptra, Radiesse and Artefill further inflamed the intemperate mood. "Anything can be done to excess," says plastic surgeon Norman Leaf. "It is all a matter of balance and taste, and that is hard to acquire and learn."
In particular, filler was responsible for absurdly swollen faces and bodies. Plastic surgeon Sherrell Aston says too much caused lower eyelids that sometimes appeared gray and lumpy, ropy nasal labial folds and chipmunk cheeks. "The pendulum is starting to swing," he says. "We are seeing more and more people who are coming in now who have tried the filler route and realize that they have spent the cost of two facelifts, and many times they look worse or certainly no better than they did before the first filler."
In fact, a good old-fashioned facelift is now preferred. New techniques are being used to prevent the tightly pulled, windswept look of yore. Plastic surgeon Daniel Ronel performs what he calls a modern facelift, in which he pulls the skin straight up rather than at a diagonal. "It is a more natural look because it puts things where they were before, and the healing is easier because that's where the skin came from," he says, adding, "It avoids the ugly incision behind the ear that the traditional facelift surgery has."
Likewise, Bernard Markowitz, a surgeon who's rumored to have attended to Sharon Stone, tends to shun cheek or chin implants in his facelifts, choosing instead to strategically reposition fallen facial fat and tighten the layer beneath the skin to add volume to the upper middle of the face. He says the method addresses both volume and skin-quality issues, while fillers can only attempt to tackle the lack of volume. "When you have a young, full face, when it changes it is not just fat volume being lost, the skin changes as well, so to get that youthful appearance you have to put so much stuff in there that it looks ridiculous," says Markowitz, referring to fillers.
Fat—a dirtyword in Hollywood—is also being looked at in new terms, particularly fat grafting to improve facial volume. "As we age, we lose the fat in our face. It is not just the stuff that makes us look round and pudgy. It is the deep fat," says plastic surgeon John Layke, who performs fat injections in the face. "If we can re-volumize the deep compartments of the face, then everything tends to be lifted, it looks more youthful."
Still, the process is easier said than done, and the results can be uneven at best. It takes expert extraction, washing and insertion of the fat. "It is like seeds," says plastic surgeon Lawrence Koplin. "It works, but you have to do it right and put extra in because not all the seeds germinate….You overcompensate a little bit because you know you are going to lose some."
Plastic surgeon Robert Guida has been using a process called Natural- Fill for the last few months, in which he harvests a patient's own fat and keeps it intact for a transfer to the face. Compared to fillers, Guida says NaturalFill procedures can "last longer" —he approximates around 12 months to fillers' six to nine months—and give "a more contoured, softer look as opposed to a more elevated, arched, extreme look."
The difficulties of fat grafting—its variability and short-term nature—are driving an interest in procedures tapping stem cells found in fat in what could perhaps be the next revolution in cosmetic medi- cine, if not almost every medical discipline. Fat has a very high concen- tration of stem cells—higher than even bone marrow and skin—that can be segregated and inserted, along with fat, during boob jobs or facelifts. The stem cells signal blood vessels to grow into the fat, and the fat flourishes to encourage lasting volume.
"We notice that the skin looks better when you put fat stem cells in," says Koplin. "It has more of a blood supply to it, and even the tiny fine lines get better. You don't get that from fillers."
Plastic surgeon Calabria has employed Cytori Therapeutics' cutting-edge Celution System for procedures in Europe (it is not approved by the U.S. Food and Drug Administration) to isolate the stem cells in fat. After they are isolated, he then mixes the stem cells with purified fat for injections into the face. That mixture contains a much greater amount of stem cells than in fat alone and increases the chances that healthy stem cell activity will occur.
"You have turbocharged fat," says Calabria. "It is too early to predict how much potential this technology has, but the same type of surgery is going to be used [for] other areas of the body. "This is the future," he adds.
All of this doesn't mean that Botox is down for the count, just that its use is becoming more refined—and covert. Actresses Teri Hatcher and Courteney Cox have publicly sworn off Botox, and even Meg Ryan and Nicole Kidman, who could have been spokeswomen for frozen faces and megalips, seem to have checked their facial manipulation. "That Nicole Kidman, total emotionless look was so obvious," says dermatologist Harold Lancer. "The majority of people just want to be softened a little bit."
Plastic surgeon Daniel Ronel estimates he uses 30 percent less Botox per patient than he would have around five years ago. "I see people getting a little bit less and maybe stretching it out before their next time. Instead of four months, they go six months," he says. Likewise, Lancer says he usually injects four drops of Botox alternative Dysport twice a year to level frown lines rather than the 10 drops he injected previously on a more frequent basis.
Dermatologist Jessica Wu says she now uses Botox to soften expression lines instead of totally wiping them out by injecting small doses all over the face rather than condensing doses in the upper face. "I will no longer do so much Botox that a forehead is completely stiff," says Wu. "That used to be our goal." Wu notes that she's also more frequently addressing the lower face and injecting Botox at the jaw in front of the earlobe to sharpen the jawline.
Fillers are being treated with much more discretion as well. Lips pumped up from one end to the other are too extreme for the emerging aesthetic. Even Lisa Rinna – who for years denied having artificial fillers in her overinflated pout – recently admitted that she asked plastic surgeon Garth Fisher to deflate her famous pucker.
For his part, Guida focuses on accentuating the peaks of the upper lip called the Cupid's bow and likewise amplifies the middle of the lower lip before tapering filler out to the corners of the mouth. "People laugh at that [fish lips] look, but they still want their lips fuller—just in the center part of the lip or a Cupid's bow," he says. In terms of natural beauties, Scarlett- Johansson has the most covetable natural mouth.
As with lips, breasts, too, are being downsized, and implants kept more natural-looking. When Kate Hudson reportedly decided to celebrate her 31st birthday with newbreasts, the results were subtle. In his practice, Ronel says the average breast implant five years ago was 400 cc's, and it has gone down almost a cup size smaller to 300 cc's. For women with athletic builds, Calabria recommends no larger than a C cup regardless of height. "Big breasts are completely out," he says. "The look is in proportion with the body frame."
Surgeons are vigilant about preventing breast scarring that's a dead giveaway for surgery, and Ronel says he's noticing women are more often opting to place implants behind their muscles. "It adds an extra layer of padding over the implant so it looks more natural," he says.
Also out are rhinoplasties leading to scooped-out, turned-up and pinched noses, according to plastic surgeon Richard Fleming. In fact, he says around two-thirds of the nose jobs he does correct a previous error in the minds of patients, many of whom complain about not getting a natural nose. "You want a strong, well- defined nose in general," says Fleming.
Plastic surgeon Raj Kanodia, whose nose jobs are prized in Hollywood (reportedly by the likes of Jennifer Aniston and Cameron Diaz), adheres to a scar-free closed rhinoplasty method without cutting at the columella or base of the nose between the nostrils that he figures 95 percent of other surgeons do. "They are using a lot of [cartilage and bone] grafting, which takes away the subtlety of the nose, and it no longer looks like the original nose," he says. "I do a little file here, a little touch there, and I don't take away the character of the nose."
It's not just plastic surgery that's geared toward the new, restrained norm. Dentists have sharpened their skills at producing perfectly imperfect smiles, crafting veneers with variations to resemble real teeth. The secret is re-creating translucency at the tip of the teeth, a higher value of color at the middle and a warmer color toward the gums, says cosmetic dentist Bill Dorfman. "People who want teeth that are all one color end up with Chiclets, and those don't look natural," he says.
Dentist Bill Frey expounds that veneers shouldn't be smooth and flat but should mimic the curves of teeth that "go up and down like a rolling hill. When light refracts and saliva gets on it, it is going to look more natural," he says.
If this all sounds high maintenance, it's because it is. The bottom line, according to Kate Somerville, whose eponymous skin clinic in West Hollywood is a magnet for young Hollywood, the emergence of a new beauty standard doesn't mean the efforts of the old disappear. "We are trying to achieve this natural beauty that looks like it doesn't take a lot of work, but unfortunately it still does," she says. "We want flawless skin. We want white teeth. We want our hair to be silky. Like the Jennifer Anistons of the world, we want that beachy beauty. It still takes work," she sighs, "but I wish it didn't."
"We are trying to achieve this natural beauty that looks like it doesn't take a lot of work, but it still does."
Get A Youthful Face Without the Scar
The "No Visible Scar Facelift"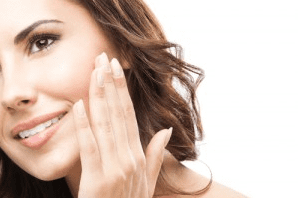 The appearance of wrinkles and sagging skin on your face can sometimes give away your age when you'd rather not. To eliminate signs of aging in the face, many individuals undergo facelift surgery. While this procedure often produces satisfying results, it does require incisions to be made and weeks of recovery time.
Traditional facelift techniques have long provided effective results, but the scarring inevitably left behind is less than desirable. Although improvements have been made in the methods and technology used, most facelift procedures still leave scars. However, Dr. Renato Calabria offers the "No Visible Scar Facelift," and he was one of the first surgeons to perform this procedure. His goal is to provide all the benefits of a regular facelift procedure without any visible scarring.
The Difference Between a Traditional Facelift and the "No Scar Facelift"
A traditional facelift procedure involves making incisions at the hairline of the scalp that run down around the ears to give access to the underlying facial tissues. Although these scars are not easily noticed, they are more apparent when the ears are left uncovered or the hair is pulled back.
For the "No Visible Scar Facelift," Dr. Calabria creates tiny incisions within the mouth and scalp that result in no visible scarring once they heal. He uses a device with a light attached to the end called an endoscope, which allows him to adjust the underlying tissues through the tiny incisions.
To schedule a consultation with our board-certified plastic surgeon, Dr. Calabria, we welcome you to call (310) 777-0069 or fill out our online contact form today. We look forward to hearing from you soon!

Ten Secrets Your Plastic Surgeon Will Never Tell You About Breast Surgery
THE TRUTH ABOUT BREAST AUGMENTATION AND ENLARGEMENT AND THE TEN SECRETS YOUR PLASTIC SURGEON WILL NEVER TELL YOU ABOUT BREAST AUGMENTATION, BREAST IMPLANTS, BREAST AUGMENTATION WITH FAT, NATURAL BREAST AUGMENTATION, BREAST ENLARGEMENT, BREAST AUGMENTATION COST, BREAST AUGMENTATION REVISION, BREAST AUGMENTATION SIZE IN BEVERLY HILLS, LOS ANGELES
Breast augmentation is one of the most common plastic surgery procedures in Beverly Hills and Los Angeles, and there are a lot of detailed information on the internet about all you need to know, from the type of breast implants to the different breast augmentation procedures available, from recovery time to cost. But I bet, despite all your diligent research, you did not know about these ten important facts about breast augmentation, breast revision, and breast lift.
Number 10: You will require more than one operation, guaranteed!
Many plastic surgeons will depict a perfect scenario where they fail to mention the fact that it is guaranteed that you will have to replace your implants at least once in your lifetime if not more. Implants don't last a lifetime like some plastic surgeons may imply. Ninety percent of breast implants are leaking after ten years, and therefore they need to be replaced periodically.
Number 9: Large breast implants have a higher incidence of problems!
Large breasts seems to be popular in today's world. A lot of women seek to reach very large dimensions on their breasts and plastic surgeons are trying to accommodate their wishes placing breast implants that are definitely too big for them. It is not only a matter of proportions but large implants cause more complications like rippling but more importantly the excessive weight will cause the breast skin to stretch much more. This will eventually become so evident that the breast will look deformed. Anything more than a C cup breast will require, with time, a breast lift. The bigger the breast implants, the shorter the time by which the patient will need a breast lift. Breast lift scars are much more visible than the breast augmentation scar therefore the more you can postpone or avoid the breast lift, the better it is.
Number 8: Scar tissue around the implants can occur up to 80 percent of the breast augmentation cases.
Scar tissue around the breast implants occurs in most of the cases. In many cases, this scar tissue will cause a capsular contracture or a capsular contracture which means that the breast will get firmer to the point it may even hurt to touch. The pain may also be present constantly. The incidence of capsular contracture may vary from 5 to 65 percent. The treatment consists of removal of the scar tissue with a procedure called capsulectomy. Even after removal, there is no guarantee that it will never happen again. In fact, it is just the opposite. It can re-occur many times.
Number 7: You will be required to monitor the breast often, and the only way to tell if the implants are leaking is an MRI.
The patient needs to know that after breast augmentation surgery, she will be required to monitor her breasts often and if she does not have any insurance this may be costly because the only reliable test to make 100 per cent sure that the implants are not ruptured is an MRI.
Number 6: The breast implants may be masking a potential breast cancer.
Even if we are getting very sophisticated with radiological imaging, there is no question that the breast implants may cover partially some of the breast tissue therefore not visible to the test. If the breast implant is over the pectoralis muscles, it is worse. If it is under the muscles, it could be up to 10 to 15 percent of the breast tissue covered by the implants. It is true, though, that women that have breast implants have a lower incidence of breast cancer for the simple reason that they are monitored more often.
Number 5: Breastfeeding may be impaired.
Despite many women that have breast implants went ahead and breastfed regularly, there is a slight decrease of probabilities of being able to breastfeed.
Number 4: Belly bottom breast augmentation may not be the best approach
For a while, belly bottom breast augmentation was very fashionable, not anymore. The reasons are that it was much more difficult to perform and it was done in a blunt technique so the results were not as good, but also because with the change to silicone implants it became impossible to fit them in the small scar. Furthermore, the manufacture's companies will not provide insurance for breast implants introduces by the belly bottom because too much pressure would be applied to the implants in the effort to fit them through the incision.
Number 3: Breast augmentation with fat is more natural, and there are fewer complications.
Breast augmentation with fat is very fashionable lately. It is true that could be a valid alternative to the classic breast augmentation with implants, but there are some facts that you have to keep in mind. The fat placed in the breast may not survive therefore you may require multiple surgeries. Also, and more importantly, the fat can die and cause calcifications in the breast. This may be difficult to assess (even though we are getting better at it) and to distinguish from cancer. Keep in mind that the breast augmentation with implants will give you a perkier and more youthful look versus the one with fat alone which it is more subtle. Also, keep in mind that you can only go up one cup size or two. When you inject a lot of fat, the incidence of fat necrosis is higher. Breast augmentation with fat or stem cells is a good alternative for a patient that had multiple incidences of capsular contractures and the implants are no longer the best option.
Number 2: Multiple surgeries on your breast may cause issues with internal scarring, so you have to be more careful when you have a revision surgery.
The more we operate on the breasts, the more scarring we cause. This mean that the blood supply can be impaired. This means that repetitive surgeries require more attention, from the surgeon's standpoint (and, therefore, an experienced surgeon is required), to the blood supply because the risk of poor healing is greater.
Number 1: Teardrop implants can displace
Teardrop implants are a good idea conceptually, but in practicality they are much more difficult to position, and if they move, like often happens, they cause a significant deformity that will require revision surgery. Round implants are much easier to manage, and nothing happens if they rotate.
Women need to know the pro and cons about breast augmentation; too many times the surgeon is too cavalier about of possible risks. The truth is that a patient who is well-informed is a better patient, and she can deal with problems much better than an uninformed one. The prove is that despite all these negative factors, breast augmentation as a favorable response in more than 90 percent of patients.
Dr. Calabria is a very experienced breast surgeon in Beverly Hills and Los Angeles. Not only will he provide you with excellent techniques options, but, more importantly, will also guide you in choosing the best option for you not only in short terms but also in the long run. Dr. Calabria will give you advice to make sure you will not regret having made this difficult decision.