Posted May 18, 2016 in Adjustable Facelift, Facelift, Plastic Surgery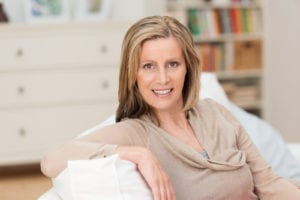 People often look at facelift surgery as a way of bringing back the past and recapturing a formerly youthful appearance. But the right facelift technique is something more than this: it sets you up for the future. Dr. Calabria's Adjustable Facelift restores a youthful facial appearance while also preparing the face for future enhancement without having to undergo a facelift twice.
Preparing for the Future
The profound benefits of a facelift are nonetheless unable to stop the future effects of gravity and aging. Skin and tissue laxity will continue to occur, sometimes within months or a few years after the procedure. With this in mind, Dr. Calabria developed the Adjustable Facelift. For the Adjustable Facelift, natural suspenders are created out of your own facial tissues and inserted into two small pockets in the scalp. These tissue suspenders are anchored in place with minimal scarring, and future skin laxity can be corrected through small adjustments to the suspenders.
The Advantage of the Adjustable Facelift
For those who undergo a traditional facelift, future tissue laxity is only correctable with a secondary facelift. The patient must go through the same procedure with the same long recovery period and risk of complications. When patients undergo the Adjustable Facelift, future tissue laxity is corrected through a minor in-office procedure with a small scalp incision under local anesthesia. This minor procedure has a minimal recovery period, and no secondary facelift is necessary. The Adjustable Facelift restores the same youthful appearance of the past while also preparing your face to retain its youthful appearance through the future.
Aging and gravity will continue to take a toll on your face after your facelift procedure. Rather than set yourself up for a second major operation at a later date, get Dr. Calabria's Adjustable Facelift to enhance your face now and facilitate an easier correction in your future.
Board-certified plastic surgeon Renato Calabria, M.D., is a revolutionary expert in facelift surgery. To schedule your consultation for the Adjustable Facelift, call the Beverly Hills office at 310.777.0069, the Rancho Mirage office at 760.836.0077, or the international Rome office at 39.349.4662323. Dr. Calabria can also be reached through his online contact form.