Blog
Mini Tummy Tuck or Full Tummy Tuck?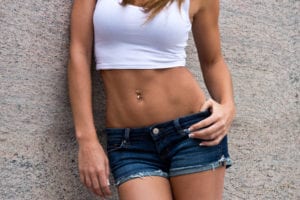 Abdominoplasty, better known as tummy tuck surgery, sculpts and enhances the abdomen, resulting in a firmer, slimmer body contour. During a tummy tuck, excess skin is removed, and any damage to the underlying musculature is repaired, producing a revitalized core. Dr. Renato Calabria has fine-tuned his tummy tuck procedure by developing a technique that minimizes scarring and delivers paramount results. Dr. Calabria offers two types of abdominoplasty, mini tummy tuck and full tummy tuck, to meet the unique needs and goals of each patient.
Candidates for Mini Tummy Tuck
Ideal candidates for a mini tummy tuck have cosmetic imperfections below the belly button that are resistant to diet and exercise. Some would describe the bothersome belly protrusion as a "pooch," and it is often caused by a combination of skin laxity, stubborn pockets of fat, and stretched abdominal muscles.
What to Expect
Epidural anesthesia
One to two hours of surgery time
Improvement of the lower abdomen only
One to three weeks of recovery
Candidates for Full Tummy Tuck
Ideal candidates for a full tummy tuck have aesthetic issues from above the belly button to the pubic area. During a full tummy tuck, an incision is created around the belly button and along the lower abdomen to remove excess tissue and tighten the remaining skin as well as the abdominal muscles.
What to Expect
Epidural anesthesia
One to four hours of surgery time
Improvement of the upper and lower abdomen
Two to four weeks of recovery