Posted November 12, 2020 in Facial Fillers, Laser Resurfacing
2 Minute Read:
There are so many ways our skin can be damaged and show a less-than-ideal version of us. Whether it's scarring from acne, deep wrinkles from natural aging, sunspots, or uneven skin tones, no one likes to look in the mirror and feel unhappy with their reflection.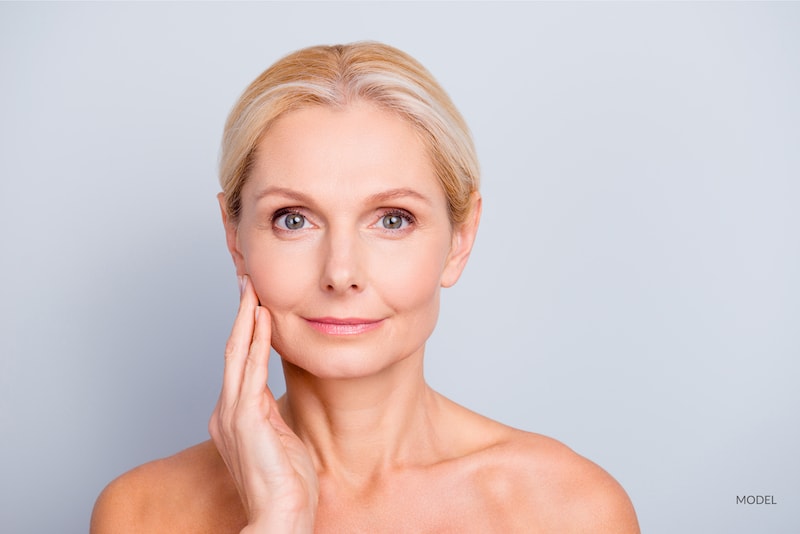 Luckily, with the many medical advancements in the cosmetic world, patients now have multiple non-surgical treatment options to rejuvenate their skin.
Learn more about the top treatments that can result in long-term skin improvements without going under the knife!
Does Plastic Surgery Impact Skin Quality?
Many people turn to plastic surgery like facelift surgery to restore youthful facial contours. Unfortunately, while traditional facelift surgery tightens the skin and underlying tissues, it doesn't impact skin texture or tone—namely, it won't do much for sun spots or acne scars. Some patients who undergo a procedure like the stem-cell enhanced facelift may see some benefit in their skin tone—since the stem cells have a rejuvenating effect—but, overall, plastic surgery does not resurface the skin.
This is where non-surgical procedures can come in.
Can Laser Skin Resurfacing Improve My Complexion?
Laser skin resurfacing is a broad term that refers to any type of skin treatment that uses a laser. Lasers are highly effective at treating fine lines, scarring, and even uneven pigmentation. A highly powerful laser beams on the skin and vaporizes the upper layers of damaged skin cells. Stripping away the damaged layer allows for new, firm skin cells to appear on the surface.
Laser skin resurfacing treatments are often done in conjunction with other cosmetic procedures.
While laser treatments can offer fantastic results, they cannot remove all signs of flaws or aging.
How Can Facial Fillers Improve Your Look?
While facial fillers, also known as injectables, do not improve the quality of the skin per se, they can help treat signs of aging such as wrinkles, fine lines, creases, volume loss. Injectables can give your face a gentle and natural enhancement to achieve a more youthful appearance—and many come with the added benefit of stimulating collagen production. Your treatment is entirely customized, as the doctor pinpoints areas of the face that need careful contouring.
The best part is that facial fillers require no recovery time and are painless! You can book an appointment on your lunch break and return to work after.
Interested in Learning More?
Before you decide which treatment is right for you, consider getting a professional's opinion. Set up a consultation with a plastic surgeon and discuss your desired results. They can recommend which non-surgical procedure is the best option for you.
If you are curious about how to rejuvenate your skin without surgery, schedule a consultation at Calabria Plastic Surgery. Dr. Calabria is an experienced plastic surgeon that is passionate about achieving fantastic results for his patients. You can schedule an appointment by calling 310-777-0069 or filling out our online contact form.