Posted November 15, 2022 in Facial Fillers
3 Minute Read:
If you want to address common facial concerns like wrinkles, loss of volume or mild to moderate skin laxity (looseness), you may be able to postpone surgery and get the results you desire with cosmetic facial fillers.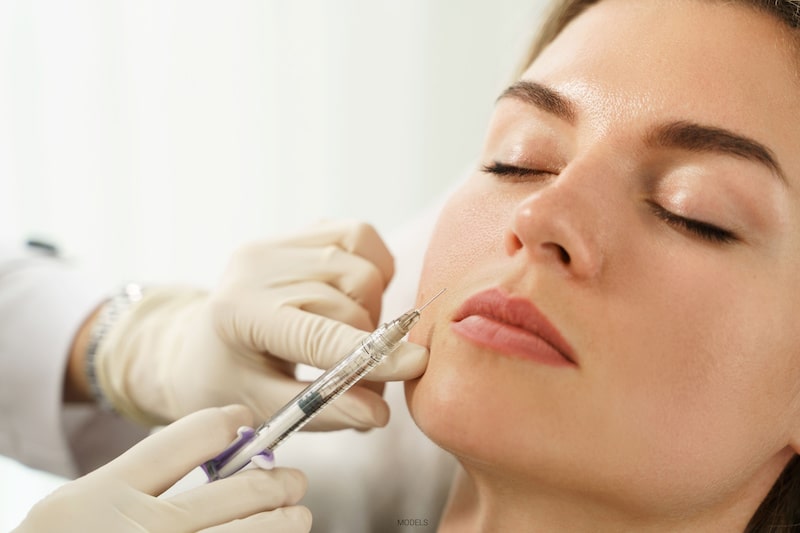 What Are Dermal Fillers?
Dermal fillers are injectable treatments that plump and fill areas in the face to reduce the severity of wrinkles, deep creases, and volume loss.
Consider the following fillers to address specific facial signs of aging:
Restylane®
This hyaluronic acid gel is an excellent option to add volume and smooth deep facial wrinkles and creases. Restylane® injections can be used to restore fullness to the cheeks and lips, improve skin elasticity, and smooth the skin.
JUVÉDERM®
JUVÉDERM® is another injectable hyaluronic acid gel and the most well-known dermal filler available today. The JUVÉDERM® family offers products that can reduce or eliminate fine lines, wrinkles, and deep creases, rehydrate the skin, and restore volume lost due to aging.
RADIESSE®
This injectable contains calcium-based microspheres and acts as a filler while promoting new collagen production for natural and longer-lasting anti-aging results. RADIESSE® is best used to treat moderate to severe wrinkles and creases like the nasolabial folds between the corners of your nose and mouth.
By knowing which injectable fillers are best for your unique cosmetic concerns, you and your doctor can choose the best combination of products to combine for a successful liquid facelift.
Dermal Fillers for Fine Lines, Wrinkles, and Deep Creases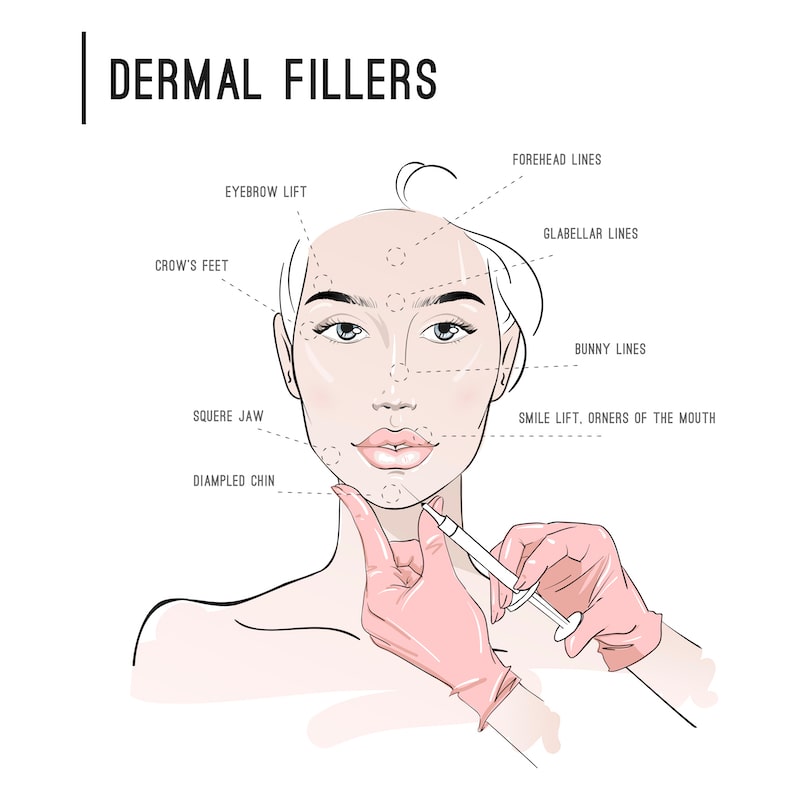 Restylane®, JUVÉDERM®, and RADIESSE® all provide exceptional results when treating lines, wrinkles, and creases. The secret to their versatility is their variations. FIllers are available in different levels of thickness, cohesiveness, and active ingredients.
Thinner gels treat finer lines and wrinkles because they help them blend in with adjacent skin.
Thicker gels are better for treating deep wrinkles and creases.
Dermal Fillers Around the Eyes
Fillers are often used to treat hollow areas under the eyes and can also be used to plump upper eyelids and reduce wrinkles.
Injections in these areas are best administered by a doctor or a well-trained and highly skilled esthetician.
For the upper eyelids, small amounts of dermal filler are injected in several spots around the area. This typically requires a local anesthetic.
For the under-eye areas, fillers are injected in the tear trough, the crease just under the lower eyelid and above the cheek.
Only hyaluronic acid fillers should be used around the eyes, and Restylane® is recommended as it is more cohesive than other dermal fillers, so it stays in place.
Dermal Fillers for the Cheeks
The cheeks are a common area to receive dermal fillers as they can add fullness and replace lost volume to these sometimes hollowed areas. Restoring volume loss by recontouring the cheeks can create a more balanced and dramatically younger-looking appearance.
The best fillers to add volume to the cheek areas are JUVÉDERM® VOLUMA® XC, Restylane®, or RADIESSE®.
Dermal Fillers for the Lower Face
Your professional provider will recommend a thicker product, most likely JUVÉDERM® VOLUMA® XC, RADIESSE®, or Restylane® Lyft, to treat jowling and loss of volume in the lower face.
Both calcium hydroxylapatite and hyaluronic acid help correct the volume loss caused by the breakdown of collagen and elasticity in the skin.
In addition to seeing immediate results, RADIESSE® increases new collagen growth to improve skin quality for longer than other options.
Dermal Fillers for the Neck
The following options provide effective treatment to reduce neck wrinkles and increase firmness in the neck:
Dermal Fillers in Beverly Hills, CA, With Well-Respected Plastic Surgeon
Dr. Renato Calabria is a reputable board-certified plastic surgeon who performs all his injectable treatments to help ensure your best results in Beverly Hills, California.
Call Dr. Calabria's Beverly Hills practice at (310) 777-0069 to learn more about your dermal filler options and how he can combine your best options for your liquid facelift!
Or, if you are experiencing considerable sagging facial skin and want information about facelift surgery in Beverly Hills.
You can also reach Dr. Calabria in Palm Springs, California, at (760) 836-0077.