Posted February 07, 2018 in Laser Resurfacing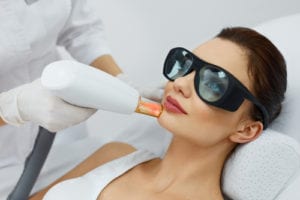 Glowing, beautiful skin can enhance your appearance faster than anything else as your skin quality contributes to a youthful, healthy, and happy look. It is unfortunate that aging, sun damage, and acne brings about fine lines, brown spots, and scars, leaving your luminous skin somewhat dull and in need of a little love. While skin creams and a healthy lifestyle can help prevent some of these conditions, more and more men and women are turning to laser skin resurfacing to turn back the clock on their skin.
How Can Laser Skin Resurfacing Help Me?
Laser skin resurfacing offers nonsurgical skin rejuvenation to diminish the appearance of wrinkles, sun spots, and irregular skin tone and texture. With laser skin resurfacing, out with the old, dingy, and damaged skin and in with the smooth and youthful skin you've desired.
How Does Laser Skin Resurfacing Work?
Fractional CO2 Laser
The fractional CO2 laser uses thousands of light beams to penetrate deep into the skin, damaging and causing the upper layer of skin (the dermis) to flake off while stimulating collagen production. The result is smoother, more evenly toned, beautiful skin. Fractional CO2 lasers can lessen the appearance of:
Fine lines and wrinkles throughout the face
Acne scars
Age spots
Pigment irregularities
Fraxel® Erbium Laser
Much like the fractional CO2 laser, the Fraxel® erbium laser also stimulates collagen production; however, it doesn't go as deep and is not as invasive as the CO2. Fraxel® is also the laser of choice for darker skin tones. This treatment offers a faster recovery time accompanied by beautiful results. The Fraxel® erbium laser can treat:
Acne scars
Fine lines and wrinkles
Surgical scars
Pigment irregularities
Enlarged pores
How Do Results Hold Up?
As all of the above lasers stimulate the production of collagen, you will continue to notice an improved quality, texture, and appearance of your skin. Laser skin resurfacing requires little downtime with minor redness and can leave you feeling refreshed and rejuvenated.