Facial Implants for a Stronger Jaw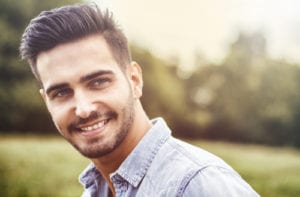 Having a defined jawline is considered to be an attractive trait for both men and women. Using implants is an effective way to sculpt the natural facial anatomy and strengthen the bone structure of the face. Facial augmentation allows patients to permanently enhance their facial shape to help reduce signs of aging and create dramatic contours. A shapely jaw can create a harmonious facial balance and lessen the appearance of a double chin or sagging neck skin. Many men opt for facial implants to construct stronger, more masculine jawlines that complement the male face at any age.
Procedure
Dr. Renato Calabria applies the most modern endoscopic technique when performing facial implant surgery, which optimizes results and minimizes the risk of scarring. Facial augmentation with jaw implants is relatively straightforward. An incision is first created inside the mouth, and then the implant is placed through the opening. Because the procedure is minimally invasive, recovery only takes a few days.
Combinations
Jaw implants alone can drastically improve the framework of the face. However, many patients obtain the best results by combining jaw implants with chin implants or rhinoplasty. When the entire profile is treated, there is more balance between the facial elements. Addressing the bone structure with facial implants also makes it easier to make soft tissue changes because it creates a sound foundation for future treatments.
For more information about how facial implants can give you a stronger, more chiseled jawline, schedule your consultation with Dr. Calabria today. Contact our Beverly Hills office at 310.879.1488, our Rancho Mirage office at 760.836.0077, or our Rome, Italy location at 39.349.4662323. You may also fill out our online contact form.