Non-Invasive Fat Removal With Liposonix®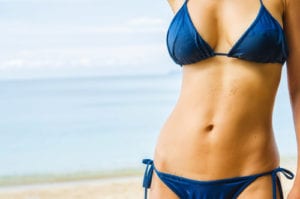 For years, people have been dieting and exercising to achieve and maintain an attractive physique. Unfortunately, due to factors like a slowing metabolism, pregnancy, and genetics, many individuals are unable rid their bodies of excess fat deposits. While liposuction is a safe fat-reduction procedure performed thousands of times every year, it is often accompanied by an extensive recovery period. For this reason, Dr. Renato Calabria also offers Liposonix®. As an innovative fat-reduction treatment, this procedure permanently reduces fat tissue in the body without the added downtime needed for more invasive surgical procedures like traditional liposuction.
How Does Liposonix® Work?
Liposonix® is a completely non-invasive treatment that utilizes high-intensity ultrasonic waves to break down fat cells beneath the surface of the skin. As these cells are destroyed, the body's natural metabolic process naturally filters out these cells through the liver. Each treatment takes about an hour to perform and typically removes one and a half to two inches from the patient's waistline.
Liposonix® is approved for use on the abdomen and love handles.
Am I a Good Candidate?
Liposonix® is a great fat-reduction treatment for women and men. To be a candidate, you must be close to your ideal body weight but still be able to pinch at least an inch of fat around your midsection. While most patients are usually satisfied with the results of their Liposonix® treatment, it is important to have realistic expectations about the outcome.
To schedule a consultation with our board-certified plastic surgeon, Dr. Calabria, we welcome you to call (310) 777-0069 or fill out our online contact form today. We look forward to seeing you soon!